ZHENHUA reliable performance coating production line customized
PECVD(Plasma Enhance Chemical Vapor Deposition)magnetic sputtering coating line is the large scale continually deposition for flat workpiece. It has the advantage of fast deposite speed, high quality, and can coat the Oxidized film, Nrtridized film, Oxynitridized film, Silicon film and Carbonizd Silicon film.
The Guangdong Zhenhua Technology Co.,Ltd (formerly known as: Zhaoqing Zhenhua Vacuum Machine Company) is established in 1992. Located in 321 national road, the Zhenhua Technology cover a area of about 50arc(inculding 10800m2 modern production centre).In 2008, we setup the Dawang production branch in Zhaoqing Dawang High-tech industrial park. The branch centre has over 100 arc of space, and with office building, researching centre and standard production centre.
The Zhenhua Technology has all the reseaching, sales, production and serve department. Our main product: Optical coating machine, high class plastic coating machine, multi-arc magnetron coating machine, in-line coating machine. Our products is widely applied to optical, electronic, toys, construction metarial,metal, watch and clock, auto industrial and decoraction application With all the well production facility such as production centre, polishing centre, CNC machine and leak detector, we has very strong production ability.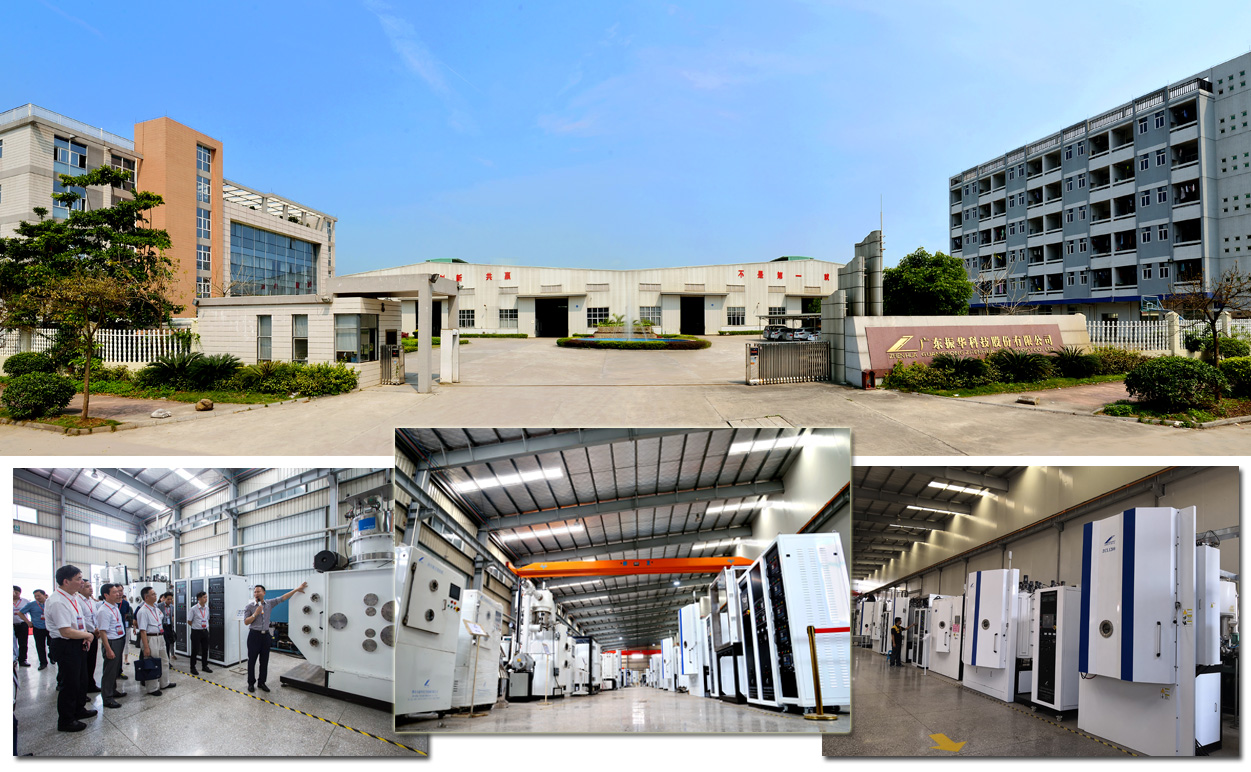 The vacuum coating technology first appeared in the 1930s, and industrial applications began to appear in the 1940s and 1950s. Industrialized large-scale production began in the 1980s, and has been widely used in electronics, aerospace, packaging, decoration, bronzing and other industries. Vacuum coating refers to the deposition of a certain metal or metal compound on the surface of a material (usually a non-metallic material) in the form of a vapor phase under a vacuum environment, which is a physical vapor deposition process. Because the coating is often a metal thin film, it is also called vacuum metallization. In a broad sense, vacuum coating also includes non-metallic functional films such as vacuum-evaporated polymers on the surface of metal or non-metallic materials. Of all the materials to be plated, plastic is the most common, followed by paper coating. Compared with metals, ceramics, wood, and other materials, plastics have the advantages of sufficient sources, easy performance control, and convenient processing. Therefore, a wide variety of plastics or other polymer materials are used as engineering decorative structural materials and are widely used in automobiles, home appliances, and daily use. Packaging, craft decoration and other industrial fields. However, most plastic materials have defects such as low surface hardness, gorgeous appearance, and low abrasion resistance. For example, a thin metal film is deposited on the plastic surface to give the plastic Cheng Liang a metallic appearance. A suitable metal source is also It can greatly increase the wear resistance of the material surface, and greatly expand the decorativeness and application range of plastics.
coating production line/inline coating machine/Continuous Coating Line/coating production line/inline coating machine/Continuous Coating Line/coating production line/inline coating machine/Continuous Coating Line/