ZHENHUA precision aluminum coating machine solution
Thickness of PVD coating film — The thickness of PVD coating film is micron, and the thickness is thinner, generally 0.3μm ~ 5μm, among which the thickness of decorative PVD coating film — The thickness of PVD coating film is micrometer, thin , Generally 0.3 μm 5 μm, in which the thickness of the decorative PVD coating film layer-PVD coating film thickness is micron-level, the thickness is thinner, generally 0.3 μm 5 μm, among which decoration.
Vacuum coating machine is one of the equipment that is widely used in the production of vacuum conditions. With the rapid growth of coating technology, various types of vacuum coating machines have begun to appear. Its working principle is actually very simple. Because of its many advantages, its scope of application is also getting wider and wider.
PVD technology not only improves the bonding strength of the film and the base material of the tool, the coating composition has also developed from the first generation of TiN to TiC, TiCN, ZrN, CrN, MoS2, TiAlN, TiAlCN, TiN-AlN, CNx, DLC, and ta- C and other multiple composite coatings.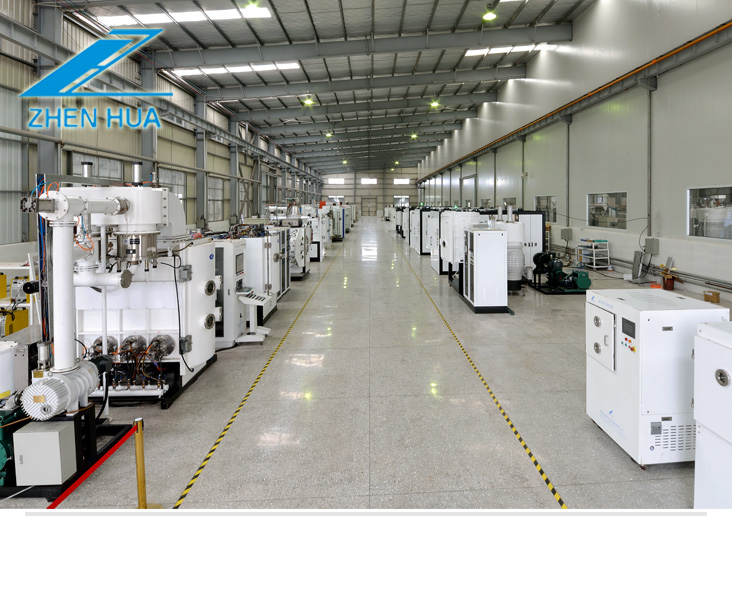 Zhenhua can choose different configurations according to the specific needs of customers, including ion beam, electron beam evaporation, magnetron sputtering, and RF ion source technology routes. Particularly suitable for complex precision optical coatings, the uniformity of coatings can reach 0.1%. Can be configured with a single-wavelength or broadband light control system to monitor the coating in real time and optimize the coating in real time. The system is fully automated and can also be operated manually.

The Guangdong Zhenhua Technology Co.,Ltd (formerly known as: Zhaoqing Zhenhua Vacuum Machine Company) is established in 1992. Located in 321 national road, the Zhenhua Technology cover a area of about 50arc(inculding 10800m2 modern production centre).In 2008, we setup the Dawang production branch in Zhaoqing Dawang High-tech industrial park. The branch centre has over 100 arc of space, and with office building, researching centre and standard production centre.
Company Name: Guangdong Zhenhua Technology Co.,Ltd
ADD: Zhenhua Industrial Park(321 State Rd near Blue Ribbon beear Factory), Yungui Rd, Zhaoqing Avenue West Block, Zhaoqing City, Guangdong Province
TEL: 86-0758-2787078 / 2787178 / 2787278/2787378
After-sale hotline: 86-0758-2787378
Accessory hotline: 86-0758-2727280
Fax: 86-0758-2787698
ADD of Shenzhen agency: R718,Jinluan Times Tower, Heping east Rd, Longhua new district, Shenzhen city, Guangdong province
Sales hotline: 86-0755-26500053
Fax: 86-0755-26500678
aluminum coating machine/evaporation coationg machine/PVD Vacuum coating machine/aluminum coating machine/evaporation coationg machine/PVD Vacuum coating machine/aluminum coating machine/evaporation coationg machine/PVD Vacuum coating machine/