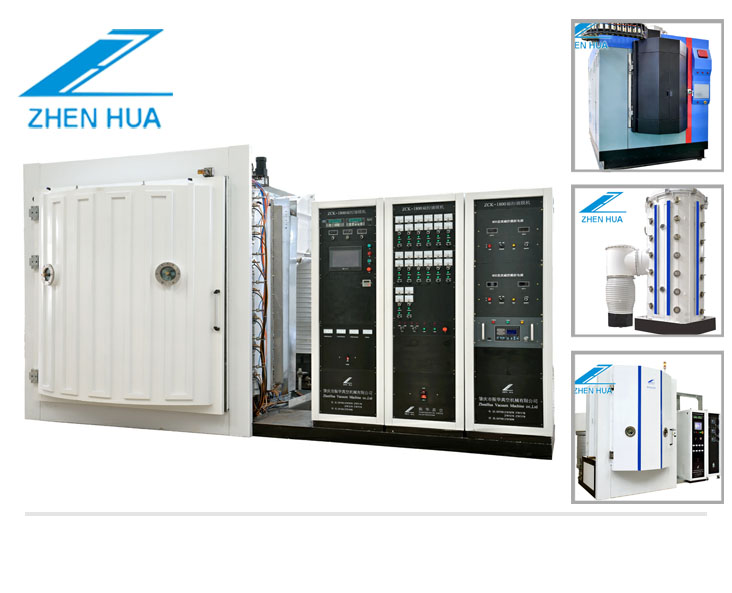 ZHENHUA High-tech PVD vacuum coating machine manufaturer
The Guangdong Zhenhua Technology Co.,Ltd (formerly known as: Zhaoqing Zhenhua Vacuum Machine Company) is established in 1992. Located in 321 national road, the Zhenhua Technology cover a area of about 50arc(including 10800m2 modern production centre),and with office building, researching centre and standard production centre.PVD coating machine/PVD vacuum coating machine/PVD sputtering coating machine/optical coating machine/vaccum coating equipment
The Zhenhua Technology has all the reseaching, sales, production and serve department. Our main product: Optical coating machine, high class plastic coating machine, multi-arc magnetron coating machine,in-line coating machine,auto-lamps protective film coating machine,PECVD roll to roll coating machine,magnetron roll coating machine,DLC/HCD diamond liked coating machine and vacuum plasma cleaning machine etc.Our technology always leading high level in China,is widely applied to optical, electronic, toys, construction material,metal, watch and clock, auto industrial and decoration application.With all the well production facility such as production centre, polishing centre,CNC machine and leak detector, we has very strong production ability.PVD coating machine/PVD vacuum coating machine/PVD sputtering coating machine/optical coating machine/vaccum coating equipment
PVD coating and PVD coating machine — PVD (physical vapor deposition) coating technology is mainly divided into three categories, vacuum evaporation coating, vacuum sputtering coating and vacuum ion coating. Corresponding to the three categories of PVD technology, the corresponding vacuum coating equipment also has three types: vacuum evaporation coating machine, vacuum sputtering coating machine and vacuum ion coating machine. In the past ten years, the development of vacuum ion coating technology is the fastest, and it has become one of the most advanced surface treatment methods today. What we usually call PVD coating refers to vacuum ion coating; what is commonly called PVD coating machine refers to vacuum ion coating machine.
(Introduction of vacuum coating equipment)
Principles of PVD coating technology — PVD coating (ion coating) technology, the specific principle of which is the use of low voltage, high current arc discharge technology under vacuum conditions, the use of gas discharge to evaporate the target material and the evaporated substance and gas both occur Ionization uses the acceleration of the electric field to deposit the evaporated substance and its reaction products on the workpiece.