ZHENHUA Good Quality evaporation coationg machine for sale
Vertical double doors evaporation decorative film coating equipment is special equipment which is professional at evaporation coating aluminium and chrome wire,the structure is vertical double doors,fast coating speed,bright color,difficult to contaminated. The equipment can gain the film which has good compactness,high purity and uniform thickness characteristic,belong to green equipment. Processable material including ABS、PS、PP、PC、PVC、nylon,metal,glass,ceramics and TPU etc. The effect can be general plating bright side,matte(semi-matte and all matte),technology of plating wrinkle,wiredrawing,drip-drop and colorful etc.
Remark: The chamber size can be designed by customers'production and special process request.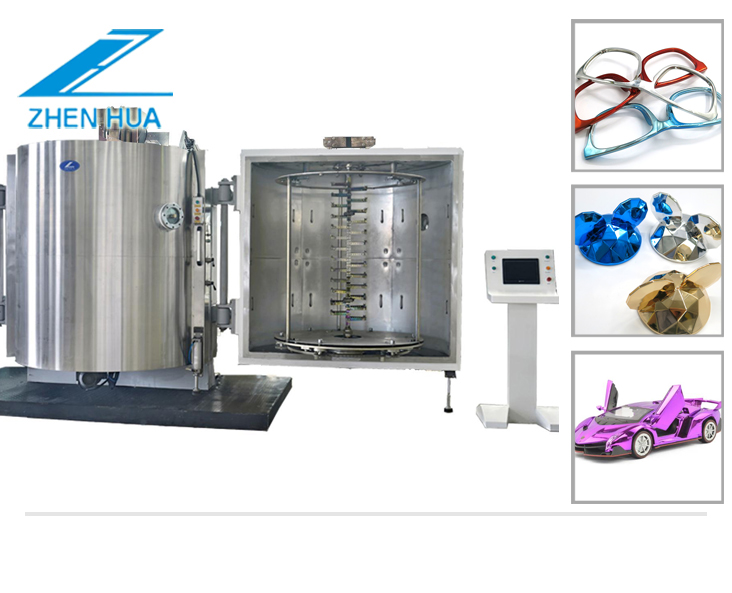 Basic knowledge of vacuum coating
Coating operation steps:
1. Wash before coating.
2. Spot check the appearance of the lens for confirmation (cracks, scars, uncleanness), and fully check the locking plate of the lens (tilt of the lens).
3. Confirm the prepared coated lenses (quantity, model and type) and make corresponding records.
4. Mount the umbrella, and install the lens from the packing box to the umbrella frame of the coating machine platform (it is recommended to take the surrounding of the coating plate with gloves, and do not touch the lens.
5. Distinguish the types of lenses to be coated.
6. Clean the surroundings of the crucible electron gun with copper brush, suck and add herbs.
7. Confirm whether the wafer and monitor are OK in the new position.
8. Confirm that there are no sundries in the machine, and then close the door for exhaust and heating.
9. Select the corresponding process for coating.
10. Personnel monitoring during coating process.
11. Lower the umbrella, remove the coated lens from the umbrella frame and put it into the packing box.
12. Spot check, mainly film point, foggy, abnormal color, unclean.
13. Olympus reflectometer and u4100 spectrophotometer are used for spectral measurement.
14. Take 1 PCs. for each circle of umbrella frame, 5 circles in total.
15. Film strength test (3m tape is used to stick and pull the film for 3 times).
16. It can be sent out after the spectrum measurement is OK.
evaporation coationg machine/PVD Vacuum coating machine/evaporation coationg machine/PVD Vacuum coating machine