ZHENHUA competitive price Car Lamp Protective Film Coating Machine customized
Vehicle wheel rim Special Vacuum Coating Machine
Auto-lamp as a type of function module,requested it has excellent heat resistance properties,mechanical properties,low Haze and nice appearance.Generally,in order to get nice appearence and reflection effect,the auto-lamp have to do some after processing step such as spray paint and vacuum evaporation coating .Spraying paint can improve the smoothness of the surface of the auto-lamp,and reduce the small molecule precipitate which inside the material at the same time,improve the pass rate of evaporation coating. Vacuum evapotation coating can make auto-lamp get the metal effects, nice appearence and reflection effect.However,spraying paint will cause high cost and cause environment pollution in the same time.At present,many manufacturers tend to the process of coating by no spray paint and evaporation coating straight,the technique of plating protective film on auto-lamps'reflect cover are widely applied to various series of car. The special coating equipment for protective film of auto-lamp,complete evaporation coating aluminium and plating protective film process steps by one time inside chamber room,prevent secondary pollution.The film with index which can conform international standard such as uniformity,acidproof,alkalic-resistance,salt-tolerant,waterproof,function for prevent corrosion effect of the outside world nby using nanotechnology.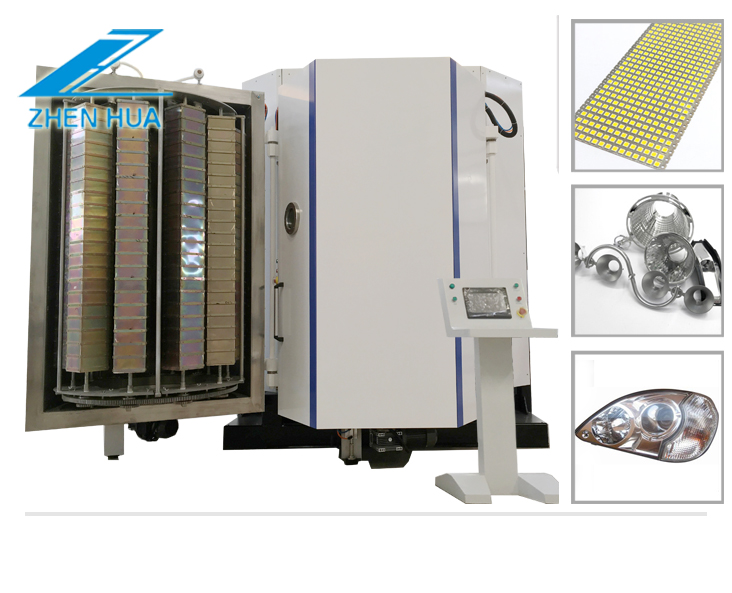 The special equipment for automotive wheel PVD coating is based on the cathodic arc ion evaporation system and unbalanced magnetron sputtering system. It adopts computer automatic control system technology to refine the deposited particles and improve the performance of the film layer.
Widely used in aluminum alloy automobile wheel plating: titanium, chromium, zirconium, stainless steel, silver, copper, aluminum and other composite metal film.
The company's equipment is non-standard customized, and can be designed according to user requirements of various specifications and models of vacuum coating machine. Vacuum units and electronic control systems can also be designed and configured according to user requirements.
The AF anti-fingerprint coating equipment is assisted by Zhicheng's unique ion source, which is an advanced coating technology. This equipment has stable working performance, which significantly improves the quality of the AF anti-fingerprint film layer, and the device adds a fully automatic coating process to assist the operator to get started quickly.
AF anti-fingerprint equipment is suitable for all types of jewelry. It adopts cutting-edge technology, film-free baking, fast-drying, smooth, clean, anti-oxidation, no fear of fingerprints, and never fade. It is designed to create a permanent umbrella for jewelry.
Car Lamp Protective Film Coating Machine/Auto-lamp coating machine/PVD Vacuum coating machine/Head Lamp Vacuum Coating Machine/Car Lamp Protective Film Coating Machine/Auto-lamp coating machine/PVD Vacuum coating machine/Head Lamp Vacuum Coating Machine