ZCK1600 magnetron sputtering coating machine make PVD coating
This paper introduces the working principle and advantages of ZCK1600 magnetron sputtering coating machine of Zhenhua vacuum.

When our product using ZCK1600 magnetron sputtering coating machine to make PVD coating, first we should clamp the product which finished pre-treatment into vacuum chamber, then turn on the coating machine start to pumping vacuum, when the vacuum chamber is vacuumized to the required vacuum pressure, the vacuum coating process can be started. We can choose the coating process according to the material and the requested coating effect of the product. Before coating, the product may be heated or ionization cleaned in the container.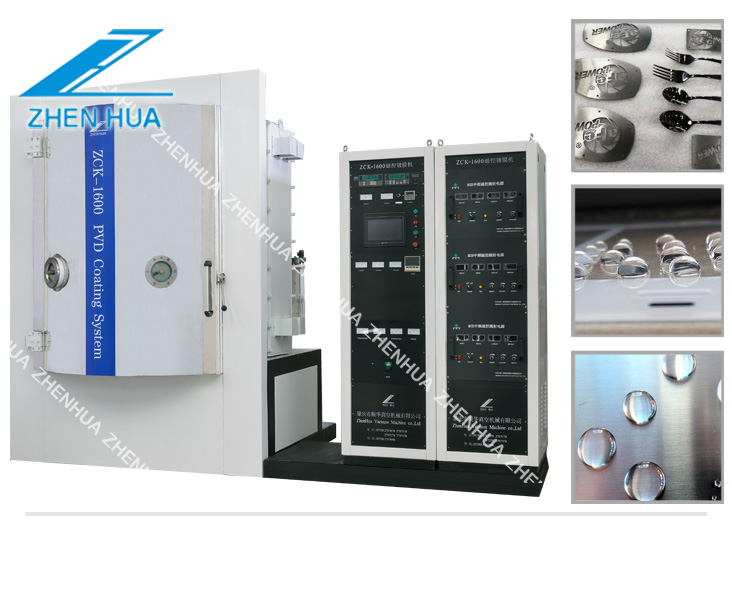 PVD coating principle of ZCK1600 magnetron sputtering coating machine:After heating or ionization cleaning, negative charge is applied to the cathode coating material, and negative bias is applied to the product if the product substrate is conductive.The deposited material of PVD vacuum coating will be sputtered to the product surface in the form of high energy, and will travel along the product surface until it reaches the preferred nucleation position. Bombarding ions continuously from the source will sputter the deposited material, so you won't encounter the common large edge accumulation problem of the coating.
Please carefully control the bombardment of PVD vacuum coating to avoid overheating the product. Due to the ion which reaching the product surface are high energy, so the adhesion of vacuum coating will be significantly better than the adhesion of electroplating.When the surface coating of the product reaches the required thickness, the sputtering coating process can be stopped, the air pressure and temperature in the vacuum chamber can be buffered, and then the product can be taken out from the vacuum chamber.
In the ZCK1600 magnetron sputtering coating machine , there are many devices to control the deposition rate, energy and thickness of coating materials, so as to ensure the stability and repeatability of each coating and improve the yield of products. ZHENHUA VACUUM's ZCK1600 magnetron sputtering coating machinehas good equipment stability, high coating repeatability, high product yield, and can more easily achieve the desired effect!
magnetron sputtering coating machine//PVD sputtering coating machine/magnetron sputtering coating machine//PVD sputtering coating machine