The vacuum coating equipment used for coating mobile phone shell is appreciated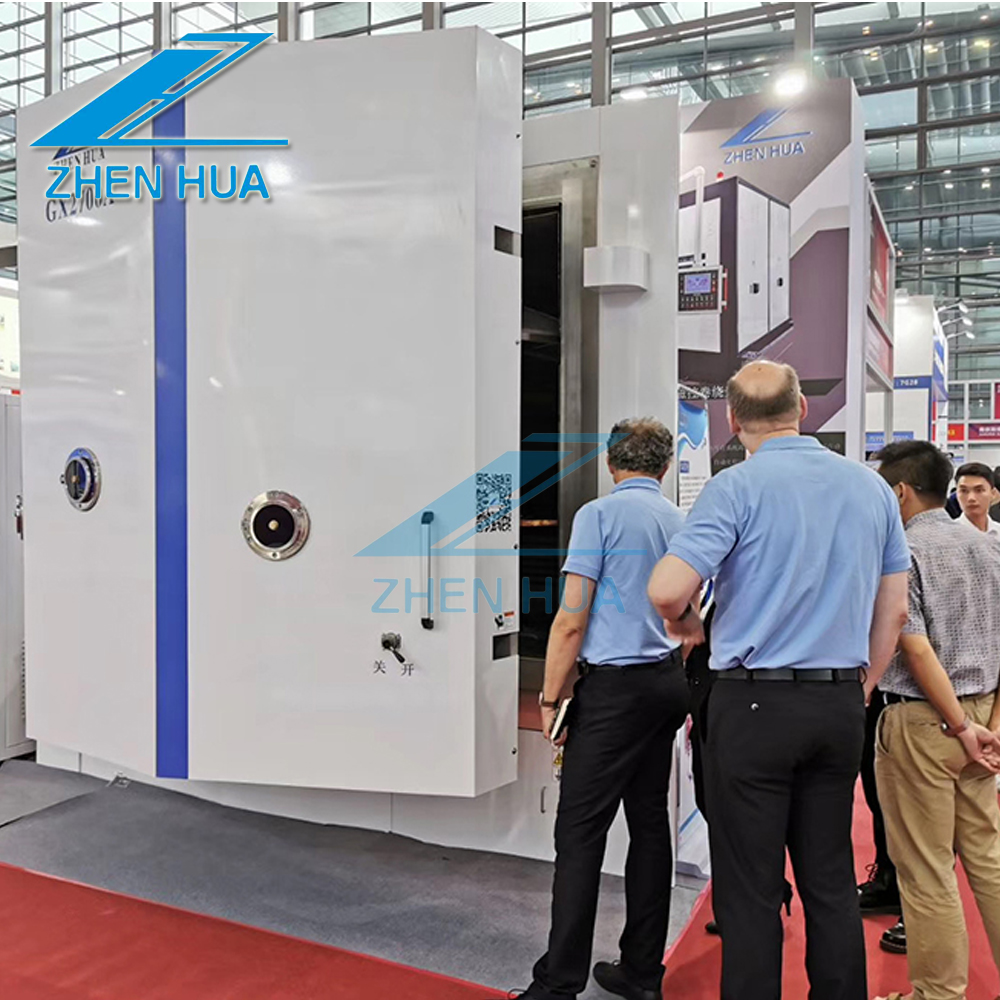 Our client, Mr. Joseph met, is a mobile phone component manufacturer from the United States.
He now has a mobile phone cover processing plant in China. His business mainly comes from factories of various well-known mobile phone brands. In order to improve the production capacity of coating equipment, Mr. Joseph met began to look for professional vacuum coating equipment manufacturers. When he searched our official website, he learned that Guangdong Zhenhua Technology Co., Ltd. is a professional manufacturer of vacuum coating equipment, with R & D, sales, production and service departments, which can provide good services to customers. He is very interested in our factory.
In August, 2019, Mr. Joseph met visited our company. After communicating with Zhenhua process engineer, Mr. Joseph met's requirements were confirmed. We recommended our gx2700 PVD optical vacuum coating machine to him. It is the latest one with stable operation performance. The most important thing is that it has the largest capacity. Gx2700 inner cavity size: Ф two thousand and seven hundred × 1950mm, equipped with a set of imported electron gun, American brand film thickness gauge and ion source, can make ar/af film on glass, PET film or plastic composite plate. Color film, gradient film and non-conductive bright silver film can also be coated on these surfaces. As the market's pursuit of mobile phone appearance continues to upgrade, the gradient color is more and more popular in the market. Mr. Joseph mett is very excited about the machine.
After discussion, sample making and visit, Mr. Joseph met highly affirmed the strength of our company. He was very satisfied with our gx2700 optical vacuum coating machine. Finally, he decided to buy 10 machines for the new factory.
Vacuum coating equipment is a high-end mechanical product, and China's import and export with its major trading partners have grown steadily. The import and export of China's top five trading partners ASEAN, the European Union, the United States, South Korea and Japan increased by 8.4%, 10.2%, 9.9%, 12.3% and 1.8% respectively, pulling the overall import and export growth by 4.8 percentage points.
However, it should also be noted that the growth rate of import and export in March was still lower than that in the previous two months due to multiple pressures such as the severe global epidemic, the more complex external environment and the higher base of last year.
In this regard, Li Kuiwen, spokesman of the General Administration of customs and director of the statistics and analysis department, said that while facing these difficulties and challenges, we should also see that China's economy is resilient and its long-term fundamentals will not change. China's foreign trade is still expected to maintain stable development.
Intelligent management accelerates the development of foreign trade.
In terms of overseas promotion business, China enterprise power has 16 years of foreign trade service experience, and became the first officially authorized partner of Google in China in 2006.
The senior Google certified optimizer team works with certificates to ensure that every investment appears in front of overseas customers, helping enterprises develop overseas markets and obtain business opportunities. Small investment brings large orders, successfully introduces new business opportunities for many enterprises, and maintains stable customer satisfaction. The brand customer renewal rate remains above 90%.
For customers with different needs, China enterprise power will provide customers with multi-dimensional and accurate overseas customer acquisition skills, help customers build a trade bridge with overseas customers and avoid unnecessary detours with services of low threshold, careful division of labor and mature operation experience.
At present, China's foreign trade enterprises are already on the road of "going global" this year. Chinese enterprises hope that foreign trade enterprises can make good use of the advantages of the bonus period and use the "Internet plus foreign trade" to achieve advantageous progress and advantageous output, which is conducive to expanding consumption, promoting the development and upgrading of the open economy and creating new economic growth points.
The current Internet foreign trade expansion is no longer the network environment of the past. Now we need more comprehensive and professional foreign trade marketing ideas and tools to open online foreign trade extension channels through high-quality and fast methods.
Only by establishing an independent portal website and supporting exclusive promotion and marketing, can overseas trade take a longer and more stable path.
As a leading enterprise in the domestic website market, China enterprise power has served 1.35 million + customers in the past 22 years. The website market has been rated as the first in market share by CCID for four consecutive years.
Strong strength guarantee, local design with in-depth industry insight and perfect peripheral services help customers open the brand display and online marketing entrance in one stop. Among the top 500 enterprises, 23 chose China enterprise power to provide their global official website.
The vacuum coating equipment used for coating mobile phone shell is appreciated,optical coating equipment,optical coating machine,vacuum coating equipment