The understanding of rose gold and the rose gold plating of vacuum coating equipment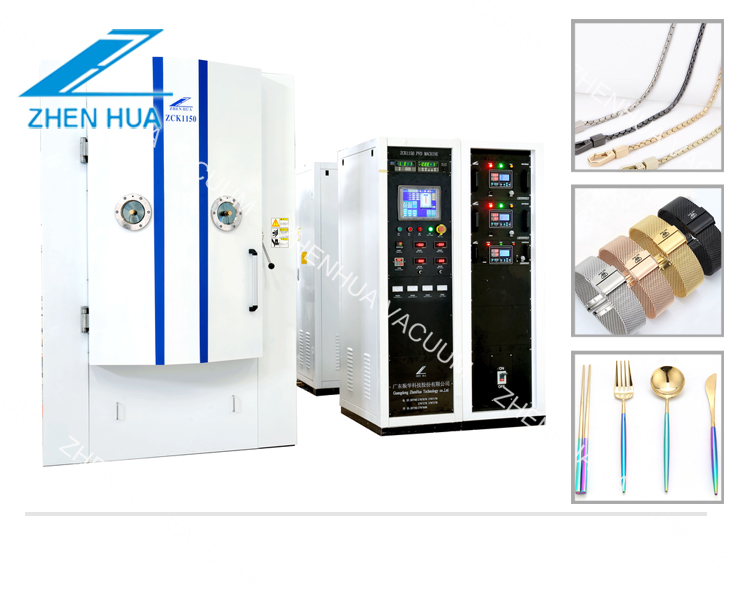 Rose gold is an alloy of gold and copper, also known as k gold.
Rose gold has a very fashionable and beautiful pink rose color, so it is widely used in jewelry design and processing.
Characteristics of rose gold: The composition of rose gold is pure gold + copper + silver/zinc. Due to its moderate synthesis ratio, it has the characteristics of strong ductility, high hardness and changeable color. At the same time, it incorporates 25% of other metals, which is not easy to deform and scratch, and can be widely used in the design of delicate gold jewelry.
Among them, 18K rose gold is a mixture of 75% gold and 25% copper, silver and zinc, also known as rose gold and red gold. Because it was once popular in Russia, also known as Russian gold, very fashionable and beautiful. When you hear the word "gold", don't assume that rose gold will cost a lot! In fact, its cost is very low. The value of rose gold plating on jewelry mainly lies in the design of the jewelry and the brightness of the jewelry after it is all plated with gold.
Understanding of vacuum rose gold plating
All kinds of high-end watches, bracelets and necklaces that you usually see are particularly eye-catching in daily life, so do you know what machine is plated with the colorful appearance of high-end products? The appearance of high-end products is coated with a layer of film by a vacuum coating machine to have such an effect. Today, Huicheng Vacuum Edge Xiao will give you a detailed introduction to the knowledge of rose gold PVD color film coating by vacuum coating machine.
Rose gold, just from her romantic name, can evoke countless wonderful associations. Following the glittering gold jewelry and the classic and elegant platinum jewelry, the soft and charming rose gold jewelry has gradually become the "new favorite" of fashion people, and with its unique style and culture, it has deduced another brand-new world of precious metal jewelry. Usually rose gold consists of 75% gold and other alloys (commonly known as tricolor gold).
Compared with traditional gold and platinum, pink rose gold not only makes the color of colored gemstones more intense, but also reflects the delicacy and delicacy of metal materials. Its warm colors such as pink and rose bring warmth and joy; there are various styles, such as heart, olive tip, oval, pear, emerald, etc. A variety of ornaments of different styles are dazzling. Women look elegant in business attire, evening gowns or suspenders.
Rose gold is a very popular color in the watch industry in recent years. Many brands use PVD to deposit rose gold coatings on stainless steel cases and straps. It is called IP rose gold in the industry, and the technology is very mature. Rose gold plating generally consists of an imitation gold layer and a rose gold layer, and the bottom imitation gold layer is generally TiCN, which mainly increases the hardness and wear resistance of rose gold.
The rose gold on the surface is sputtered from a rose gold target. There are some differences in the color of different rose gold targets, which can be roughly divided into the following categories:
1. Crown gold, with a gold content of 22K (91.667%), was first used by Henry VIII of England (1526) to mint gold coins.
2. The most common and typical 18K rose gold, the gold content is also 18K (75%), but the other ones contain about 4% silver and about 21% copper, showing a beautiful pink rose.
3.14K red gold, the gold content is 14K (58.33%), and other added metals are copper (41.67%).
Some vacuum coating machines will add some other rare elements to the gold target when coating the roses of the PVD coating factory to achieve different hues or change the properties of the coating, which is also the hue of each PVD factory on the market. one of the reasons.
vacuum coating equipment, Explanation vacuum coating equipment,PVD vacuum coating machine,Vacuum coating machine,Magnetron Sputtering Coating Machinery,24K Jewelry Gold Magnetron Sputtering Machine,vacuum coating equipment, Explanation vacuum coating equipment,PVD vacuum coating machine,Vacuum coating machine,Magnetron Sputtering Coating Machinery,24K Jewelry Gold Magnetron Sputtering Machine,vacuum coating equipment, Explanation vacuum coating equipment,PVD vacuum coating machine,Vacuum coating machine,Magnetron Sputtering Coating Machinery,24K Jewelry Gold Magnetron Sputtering Machine