Roll to roll coating machine product features:
The high vacuum winding coating machine integrates high efficiency, stability and high cost performance. It is suitable for various glass substrates and flexible substrates in electronic paper, flexible circuit board, solar film battery, water oxygen barrier film, optical coating touch panel and other industries. It can also be applied to cigarette package direct plating paper, laser, anti-counterfeiting, advanced hot stamping materials, high-grade color printing packaging coating, fully compatible media coating, heat insulation and energy saving film, shielding film, conductive film and other film layers.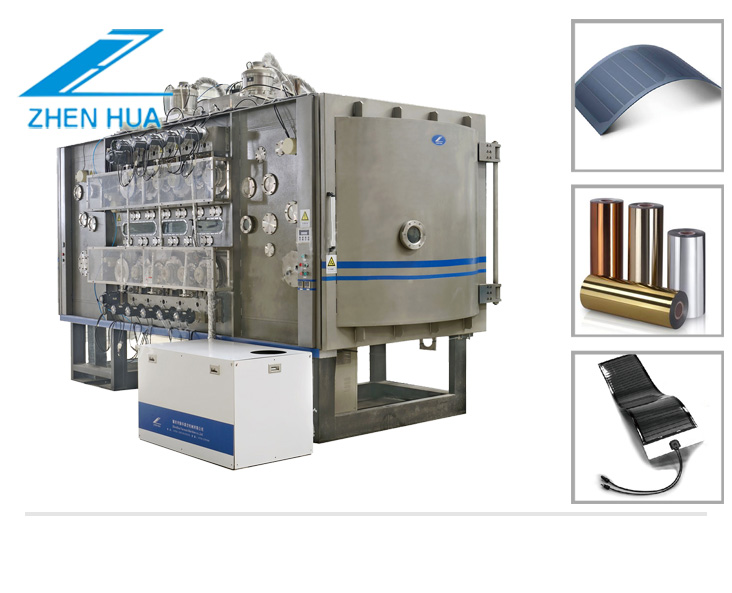 Introduction of vacuum coating machine surface treatment coating
1. Penetrating surface treatment coatings: The basic principle of penetrating surface treatment coatings is based on the use of highly permeable resins, combined with polar solvents and penetrants to make the coatings have good performance and enhance the coating adhesion.
2. Stable surface treatment coatings: The basic principle of stable surface treatment coatings is mainly based on the reaction between the active materials in the coating and the active ingredients in the rust layer. More active materials are zinc oxide,
Zinc phosphate, zinc chromate, barium chromate, organic nitrogen alkali chromate, calcium chromate, aluminum tripolyphosphate, some formulas also add sodium nitrite, and some think that adding strontium chromate is necessary.
3. Conversion type surface treatment coating: Conversion type surface treatment coating is also called reactive rust coating. This type of coating does not contain film-forming materials, and because of this, it needs to be added with primer. Primer for rust conversion.
Precautions for vacuum coating machine
1. The grounding of the equipment must be reliable, and the conductive effect of the grounding device is often checked.
2. Cooling water must be turned on before the diffusion pump and oil booster pump are heated, and the pump stops working, but when the pump is shown to be cooled below 80 degrees Celsius, the cooling water must not be cut off to prevent the pump core from burning.
3. When the diffusion pump and the oil booster pump are heated, do not contact the atmosphere to avoid oxidation of the pump oil.
Roll to roll coating machine/pvd coating machine/PVD Vacuum coating machine/PVD vaccum coating equipment/Roll to roll coating machine/pvd coating machine/PVD Vacuum coating machine/PVD vaccum coating equipment/PECVD roll to roll coating machine/