Reliable performance PVD sputtering coating machine ZCK1600

Our coating engineer made a golden color flush toilet sample for a customer by our ZCK1600 multi arc coating machine, who is a leading enterprise in the famous brand bathroom industry from East China that who mainly make some high-end market and overseas Royal ceramic toilets, ceramic wash basins, and some hardware products. During their visiting they brought a finished toilet and a ceramic basin with them to see the coating effect after use our PVD machine. Our coating engineer Mr Liu skillfully cleaned the samples with ultrasonic wave, then dry them, hang these samples on professional fixture, so that the toilet can rotate freely during the coating process, and the coating film will be more uniform. After start-up, the heating system is used to remove the water vapor , and then the bombardment system is used to clean the product before coating to improve the adhesion of the film. Customers have been watching the scene, praised our advanced equipment system, the operation system are very easy to understand. After setting up the coating recipe, we use the full-automatic mode. The ceramic toilet is plated with multi arc in the vacuum chamber for about 20 minutes, the coating engineer opens the door to see the golden toilet. The surface film is so delicate and the color is even. The customer said that this process is much better than other kind of surface treatment methods such as painting. The adhesion of the film is better. The customer is very satisfied with the coating effect.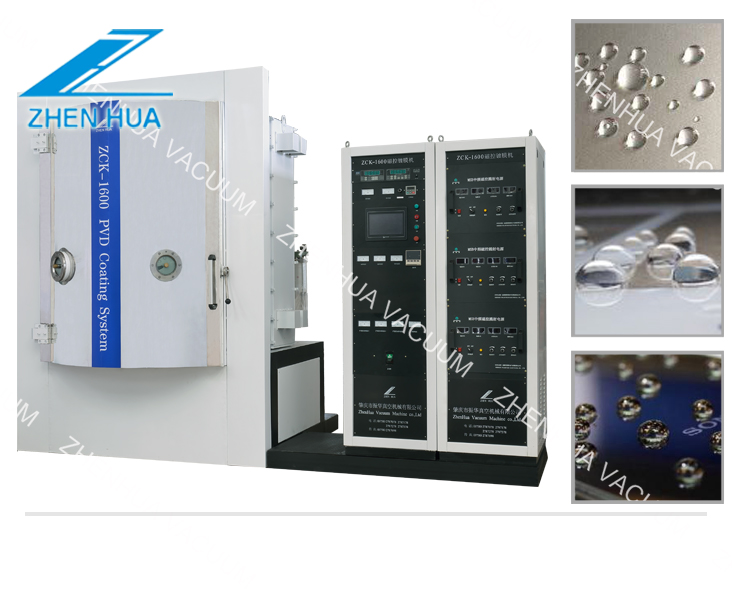 The customer said that he would go back his company to plan the layout of the factory, and then talk about the equipment placement and purchasing details.
PVD sputtering coating machine/PVD Vacuum coating machine/PVD sputtering coating machine/PVD Vacuum coating machine