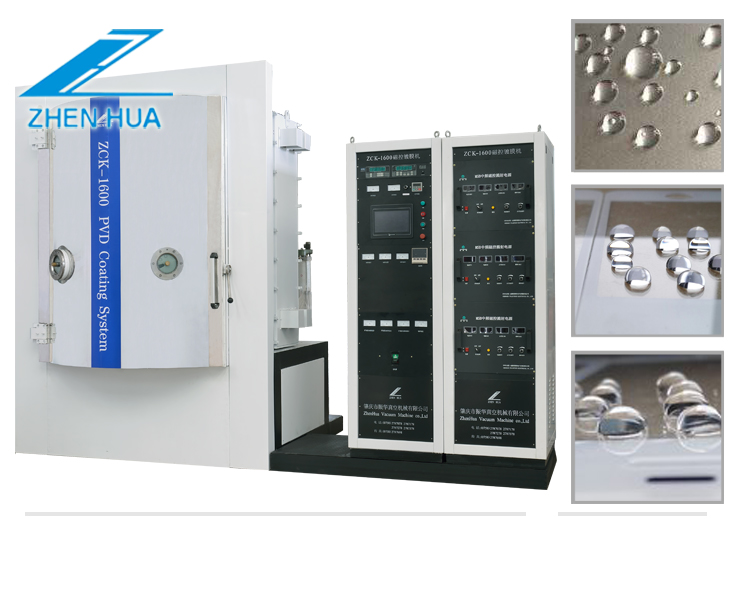 Reliable performance AF coating machine suppliers(AF coating machine/Anti-fingerprint coating machine/PVD Vacuum coating machine)
"According to customers' special request to research and development new product,satisfy manufacturing industry requirement." it always be Zhenhua Technology persistent concept.Combine characteristics of stainless steel,aluminum and aluminum alloy ect,Zhenhua Technology has developed a new special anti-fingerprint metal nano coating equipment,which can solve the property problems perfectly such as the film adhesion,hardness,anti-pollution,frictional resistance,solvent resistance,aging resistance,resistance to immersion and water cooking.This model with a big loading capacity,high efficiency,simple processing,easy operation,except for excellent property of film,also with environmentally friendly process,already widely applied to mobile,DC,button and electric appliance etc fields,make productions has better stain resistant properties,easier to clean the surface and longer lifetime.This model is applicable to any kind of metal material decorative workpiece,make productions with many characteristic such as superhydrophobicity,oleophobic,easy clean,antibiosis,anti-fingerprint and long durability.
(PVD Vacuum coating machine All related products)
The Zhenhua Technology pass the ISO9001:2000 standard in 2005, and got the name of AAA+ enterprise in 2006, won the most trustable vacuuum brand in 2007, Chinese famous brand in 2008, Deep certify leading brand in 2010, Guangdong High-tech enterprise in 2011. Upon now, we have many patent, including 15 vacuum related utility model patent of invention. We are the Guangdong private owned technology enterprise, and the technology server centre of guangdong optical academy.
We serve as executiv committee meeting menber in Guangdong vacuum academy and the vice president department of Guangdong optical academy.The strong and professional technical team, the Zhenhua Technology develop vary kinds of coating machine depend on the requirement of marking, which lead Zhenhua Technology to the edge of industry. The Zhenhua Technology not only devote to provede the core coating machine and technical support to our customer, but also the whole production solution and swift after-sale server, which maximize the production capacity as well as the financial profit.(AF coating machine/Anti-fingerprint coating machine/PVD Vacuum coating machine)
(AF coating machine/Anti-fingerprint coating machine/PVD Vacuum coating machine)(AF coating machine/Anti-fingerprint coating machine/PVD Vacuum coating machine)