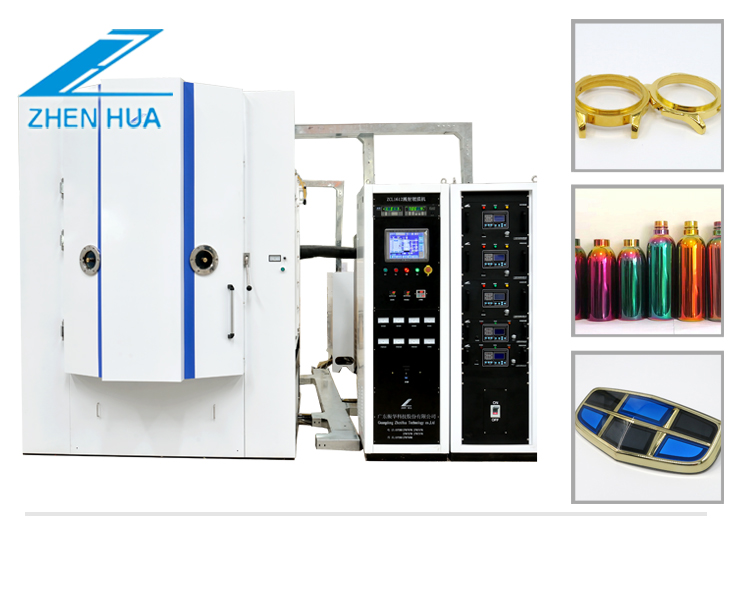 PVD is short for "physical Vapor Deposition". The main methods of PVD coating are:
1 .Evaporation coating (including arc evaporation, electron gun evaporation, resistance wire evaporation, etc.)
2. Sputter coating (including DC magnetron sputtering, medium frequency magnetron sputtering, RF sputtering, etc.)
Because of the fast development of PVD Vacuum coating machine, now physical vapor deposition technology can deposit not only metal films, alloy films, but also compounds, ceramics, semiconductors, and polymer films. PVD Vacuum coating machine for hardware industry surface treatment is mainly divided into two categories: decorative plating and functional plating. Decorative plating focuses on improving the appearance and color of the product, while also improving the product's corrosion resistance and extending its service life; watches, bracelets, earrings, rings, artificial diamond, buttons, and shoes' heels worn in daily life The heels and other jewelry are plated with one or more layers of various colors. With the increasing requirements for environmental protection in China, more and more PVD Vacuum coating machine is used for decorative coating, such as titanium plating on watches, real gold, rose gold, waterproof coating on watch belt, colorful plating on artificial diamond, etc. For the functional plating, the point and result is different. It is mainly to improve the hardness and wear resistance of the product surface, reduce the surface friction coefficient, and improve the performance of the workpiece in all aspects. Such as cutters, planers, drills and other products.
PVD coating has many advantages: such as harmless to the human body and atmosphere, it is a green product; it makes the substrate have a metallic effect, which improves the grade of the product; a wide range of targets that can be plated by PVD Vacuum coating machine(chrome, titanium, nickel, copper, brass, stainless steel, etc. ), The film layer is controllable, and the advantages of PVD coating are countless, and they are not listed here.
The ZCK1800 sputter coating machine developed by Guangdong Zhenhua Technology Co., Ltd. is one of your perfect choice for decorative coating.
PVD Vacuum coating machine /Magnetron Sputtering Coating Machinery/aluminum coating machine/PVD Vacuum coating machine /Magnetron Sputtering Coating Machinery/aluminum coating machine/PVD Vacuum coating machine /Magnetron Sputtering Coating Machinery/aluminum coating machine/PVD Vacuum coating machine /Magnetron Sputtering Coating Machinery/aluminum coating machine/PVD Vacuum coating machine /Magnetron Sputtering Coating Machinery/aluminum coating machine/PVD Vacuum coating machine /Magnetron Sputtering Coating Machinery/aluminum coating machine