PVD vacuum coating equipment is used for color vacuum plating on the surface of metal objects such as stainless steel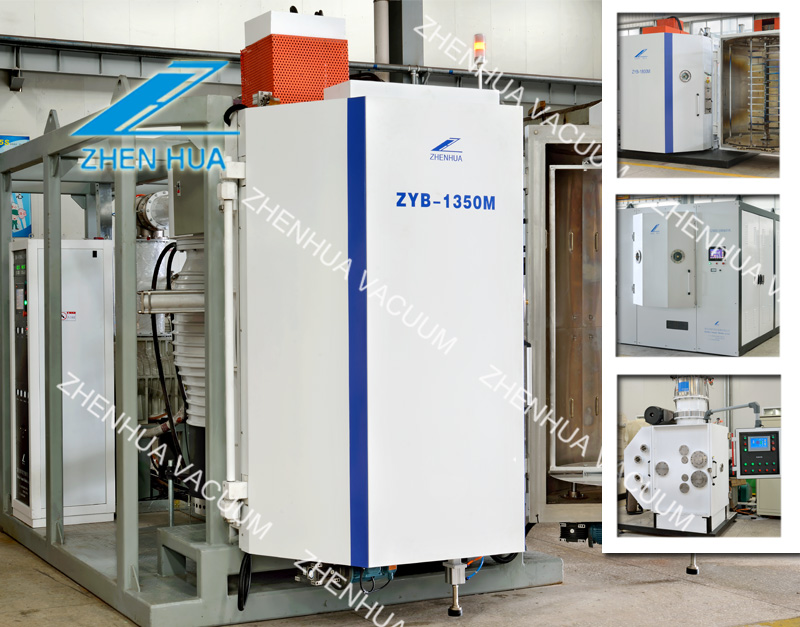 Vacuum electroplating color PVD film can effectively prevent the corrosion of stainless steel substrate, but it can not completely prevent the corrosion of the substrate. Therefore, the excellent corrosion resistance of the substrate itself is the key to the persistence of PVD coating.
Among metals that are not resistant to corrosion and easy to oxidize, such as zinc alloy, iron alloy, copper alloy and aluminum alloy, PVD film cannot be directly plated, because the above metal substrate is easy to be eroded, or the appearance is not dense, there are many micropores, and it is difficult to clean the impurities on the surface. Using the method of vacuum coating to directly coat its surface with colored PVD film will not take long, nor will it prevent its substrate from being continuously eroded. The film is easy to fall off without special measures such as oil seal. Therefore, before PVD of the above metals, it is generally recommended to conduct chemical chromium plating and nickel treatment to make their appearance more corrosion-resistant, so as to achieve the desired effect.
In addition, sponge, plastic, resin and other substances with many pores are difficult to remove impurities in vacuum, and the appearance is difficult to clean. At this stage, it is difficult to directly treat them with PVD.
Ceramics and glass have smooth surfaces, and their surfaces can be treated by PVD vacuum coating process. Because stainless steel has excellent anti-corrosion function, it is the best choice to vacuum coat color PVD film on the surface of stainless steel.
Before applying vacuum color coating on the surface of stainless steel objects, the following two points must be noted:
a. The stainless steel plate is easy to clean due to its uniform surface thickness, as long as the protective film, surface glue and impurities are removed; In addition, some plates are placed for too long, and the deterioration of the protective film makes it difficult to remove the subsequent adhesive, affecting the surface cleaning.
b. The cleaning and cleaning of stainless steel parts are complicated. In addition to obvious surfaces, it is also necessary to remove impurities such as polishing wax, glue, rust spots, dust, welding slag, etc. Use cleaning agent in some inconspicuous gaps such as welding, folding and corners, otherwise it will easily cause discoloration.
For stainless steel parts to be electroplated, the biggest cleaning problem comes from some substances that are difficult to remove, such as polishing wax, salt, rosin, sand, wood, glue, plastic, etc. Hidden in a stainless steel tube, invisible. These substances will seriously affect the quality of vacuum coating, resulting in abnormal color or fading. Therefore, the manufacturer of stainless steel components shall try to avoid that the above substances are hidden in the components and cannot be removed, so as not to affect the quality of subsequent vacuum electroplating color stainless steel coating.
After vacuum plating color PVD on the surface of stainless steel objects, the following matters shall be noted:
a. The vacuum PVD coating has certain corrosion resistance, but it is still difficult to resist the contact of strong corrosive substances such as acid and alkali. Therefore, during normal protection and maintenance, try not to use cleaning agents containing strong acid, strong alkali or strong decontamination ability, such as toilet cleaner, paint remover, metal cleaner, etc., It can be gently wiped with industrial alcohol and soft cotton cloth. If there is dirt on the surface, it should also be treated with weak acid and weak alkali solvent. In addition, if exposed to harsh conditions or corrosive liquids for a long time, PVD films are prone to scattering and other problems, such as swimming pools (containing fluorine), seawater (containing much salt), high temperature and humidity (steam), etc.
B. Application of anti fingerprint varnish. More and more customers choose to spray a layer of bright anti fingerprint cleaning oil on stainless steel products plated with color PVD film. The result is very clear. There are no fingerprints on the hands, which is easy to clean. It can also increase the function of wear resistance and erosion resistance, and kill many birds with one stone. But the disadvantage is that the color of the oil sprayed is different from that of the oil not sprayed. In addition, the processing requirements are high and the cost is not low, which affects the metal texture of the product, as well as aging and other problems. Therefore, it must be considered carefully before use.
c. Follow up. Because the PVD film is well connected with the substrate and is not easy to scatter, the product can be processed by subsequent simple machining, such as cutting, folding, bending, cutting, etc.
PVD vacuum coating equipment,vacuum coating equipment,Automatic PVD vacuum coating machine,Small PVD hard coating machine,Large Magnetron Sputtering Coating Machinery,vacuum optical coating equipment,PVD vacuum coating equipment,vacuum coating equipment,Automatic PVD vacuum coating machine,Small PVD hard coating machine,Large Magnetron Sputtering Coating Machinery,vacuum optical coating equipment,PVD vacuum coating equipment,vacuum coating equipment,Automatic PVD vacuum coating machine,Small PVD hard coating machine,Large Magnetron Sputtering Coating Machinery,vacuum optical coating equipment