PVD vaccum coating equipment/AF coating machine suppliers(PVD vaccum coating equipment/aluminum coating machine/ion sputtering coating machine/
AF coating machine)
The model ZCK-1600 Anti-fingerprint Coating Equipment from Zhenhua Technology use magnetron sputtering coating technics,not only can solve the property problems of film adhesion,hardness,anti-pollution,frictional resistance,solvent resistance,aging resistance,resistance to immersion and water cooking but also can plating AR and AF film at the same furnace and at the same time.Particularly applicable to colors decorate on the surface of metal and glass,plating AR film,mass production of AF/AS film .This model with a big loading capacity,high efficiency,simple processing,easy operation,good film consistency.Except for excellent property of film,,also with environmentally friendly process,already widely applied to shell,frame and blind flange surface dispose fields of mobile,golf head,DC,button and electric appliance etc many productions,make productions has better stain resistant properties,easier to clean the surface and longer lifetime.
Remark: The chamber size can be designed by customers'product and special process request.
The Zhenhua Technology has all the reseaching, sales, production and serve department. Our main product: Optical coating machine, high class plastic coating machine, multi-arc magnetron coating machine, in-line coating machine. Our products is widely applied to optical, electronic, toys, construction metarial,metal, watch and clock, auto industrial and decoraction application.With all the well production facility such as production centre, polishing centre, CNC machine and leak detector, we has very strong production ability.
Introduction of vacuum coating machine:
The vacuum coating machine needs to be coated as a substrate and the plated material as a target. The substrate is in the vacuum chamber with the target. Vacuum coating machine mainly refers to a type of coating that needs to be performed under a higher vacuum degree. The main idea is to divide into two types: evaporation and sputtering. Evaporation coating generally heats the target material to evaporate surface components in the form of atomic groups or ions, and settles on the surface of the substrate to form a thin film through a film formation process.
For sputtering coatings, it can be simply understood as the use of electrons or high-energy lasers to bombard the target and cause the surface components to be sputtered in the form of atomic groups or ions, and finally deposited on the substrate surface, undergoing the film-forming process, and finally forming a thin film .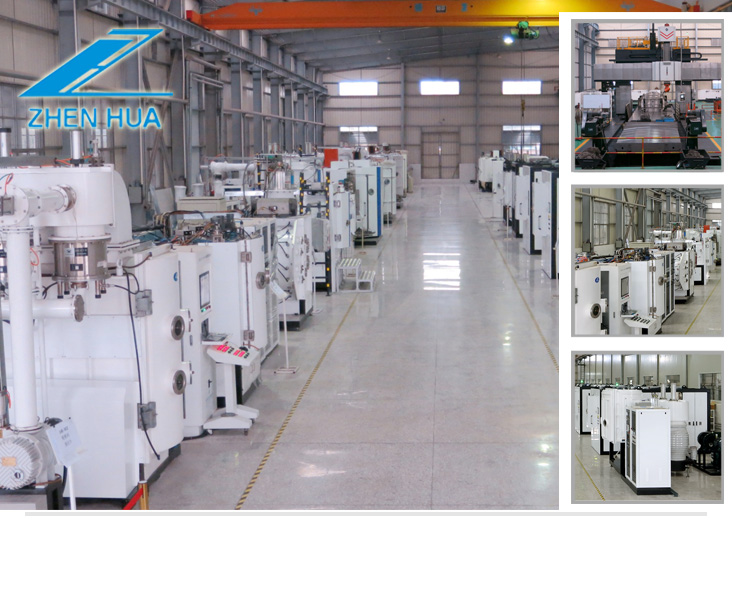 PVD vaccum coating equipment/aluminum coating machine/ion sputtering coating machine/PVD vaccum coating equipment/aluminum coating machine/ion sputtering coating machine/PVD vaccum coating equipment/aluminum coating machine/ion sputtering coating machine.AF coating machine.AF coating machine./aluminum coating machine ./aluminum coating machine