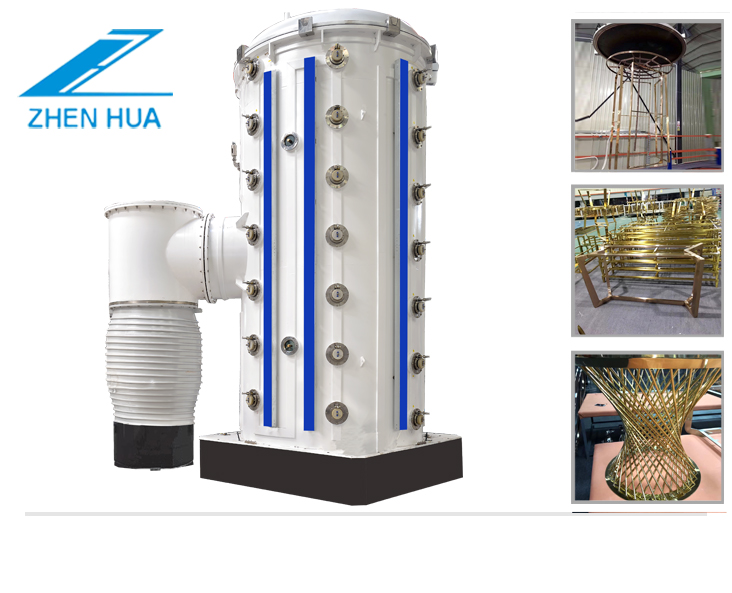 PVD vacuum plating technology has developed rapidly since the year of 2000 , and now it has been widely used in metal surface treatment. In order to meet the needs of electroplating technology in various industries, the machines' design and manufacturing of the Guangdong Zhenhua Technology Co., Ltd. are also constantly upgrading. Taking small metal products as an example, there are special PVD coating machine for metal parts such as model of ZCK1150, ZCK1613,and other bigger size according different need.
The PVD coating machine for metal parts is the same as the traditional chemical plating machine, which covers one material as a film on the surface of another material in a certain way. However, PVD vacuum plating has also become a nanometer level processing technology. The thickness of the coating is only 0.1 μ m ~ 1 μ m, which does not affect the size of the product at all. It has a higher hardness, better wear resistance, stronger corrosion resistance and high stability. The coating film by the PVD coating machine for metal parts manufactured by Zhenhua can keep color for at least 3 years according to the product properties.
Although PVD vacuum plating can produce high-quality film, but we don't need to worry about the cost, because the cost of PVD coating process is not high, it is a relatively environmentally friendly surface treatment, so in recent years, PVD coating technology has developed very fast. PVD coating has become the development direction of surface treatment in hardware industry, and vacuum coating machine has replaced some traditional plating machines.
PVD coating machine/vacuum metallizing coating machine/PVD Vacuum coating machine/Magnetron Sputtering Coating Machinery/PVD coating machine/vacuum metallizing coating machine/PVD Vacuum coating machine/Magnetron Sputtering Coating Machinery/PVD coating machine/vacuum metallizing coating machine/PVD Vacuum coating machine/Magnetron Sputtering Coating Machinery/PVD coating machine/vacuum metallizing coating machine/PVD Vacuum coating machine/Magnetron Sputtering Coating Machinery