professional reliable performance optical coating machine customized
optical lens coating machine:AS coating (waterproof coating, AF coating) is one of the vacuuming coating technology. By depositing the organic Fluoride on the substrate, it can achieve the following function: waterproof, oil proof, anti fingerprint, anti-pollution.The common application is AF glass or AF metal on touch panel. Apart from the AF application, it can alse apply to anti-rust, anti-pollution and nano protective film.
Introduction of vacuum coating machine:
The vacuum coating machine needs to be coated as a substrate and the plated material as a target. The substrate is in the vacuum chamber with the target. Vacuum coating machine mainly refers to a type of coating that needs to be performed under a higher vacuum degree. The main idea is to divide into two types: evaporation and sputtering. Evaporation coating generally heats the target material to evaporate surface components in the form of atomic groups or ions, and settles on the surface of the substrate to form a thin film through a film formation process.
For sputtering coatings, it can be simply understood as the use of electrons or high-energy lasers to bombard the target and cause the surface components to be sputtered in the form of atomic groups or ions, and finally deposited on the substrate surface, undergoing the film-forming process, and finally forming a thin film .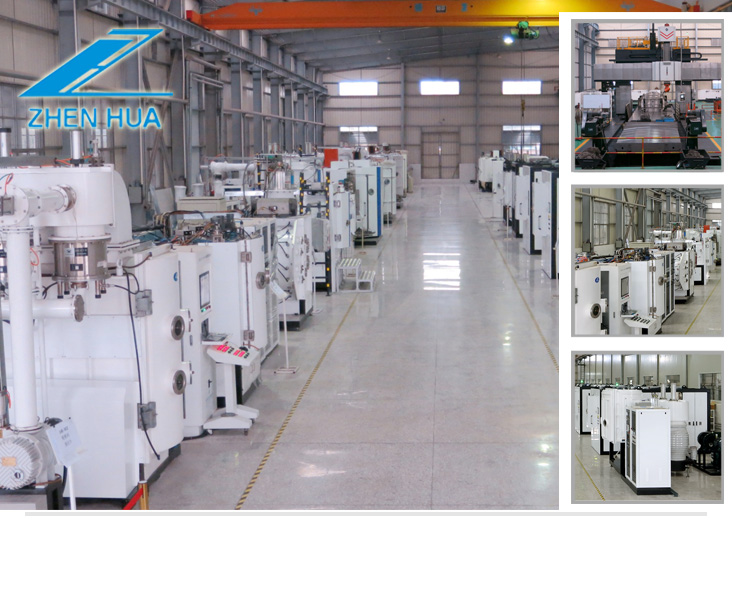 The Guangdong Zhenhua Technology Co.,Ltd (formerly known as: Zhaoqing Zhenhua Vacuum Machine Company) is established in 1992. Located in 321 national road, the Zhenhua Technology cover a area of about 50arc(inculding 10800m2 modern production centre).In 2008, we setup the Dawang production branch in Zhaoqing Dawang High-tech industrial park. The branch centre has over 100 arc of space, and with office building, researching centre and standard production centre.
The Zhenhua Technology has all the reseaching, sales, production and serve department. Our main product: Optical coating machine, high class plastic coating machine, multi-arc magnetron coating machine, in-line coating machine. Our products is widely applied to optical, electronic, toys, construction metarial,metal, watch and clock, auto industrial and decoraction application With all the well production facility such as production centre, polishing centre, CNC machine and leak detector, we has very strong production ability.

The Zhenhua Technology pass the ISO9001:2000 standard in 2005, and got the name of AAA+ enterprise in 2006, won the most trustable vacuuum brand in 2007, Chinese famous brand in 2008, Deep certify leading brand in 2010, Guangdong High-tech enterprise in 2011. Upon now, we have many patent, including 15 vacuum related utility model patent of invention. We are the Guangdong private owned technology enterprise, and the technology server centre of guangdong optical academy.We serve as executiv committee meeting menber in Guangdong vacuum academy and the vice president department of Guangdong optical academy.
Company Name: Guangdong Zhenhua Technology Co.,Ltd
ADD: Zhenhua Industrial Park(321 State Rd near Blue Ribbon beear Factory), Yungui Rd, Zhaoqing Avenue West Block, Zhaoqing City, Guangdong Province
TEL: 86-0758-2787078 / 2787178 / 2787278/2787378
After-sale hotline: 86-0758-2787378
Accessory hotline: 86-0758-2727280
Fax:86-0758-2787698
ADD of Shenzhen agency: R718,Jinluan Times Tower, Heping east Rd, Longhua new district, Shenzhen city, Guangdong province
Sales hotline: 86-0755-26500053
Fax:86-0755-26500678
optical lens coating machine/optical pvd coating equipment/vacuum coating machine/optical lens coating machine/optical pvd coating equipment/vacuum coating machine/optical lens coating machine/optical pvd coating equipment/vacuum coating machine