Professional Magnetron Sputtering Coating Machinery (magnetron sputtering coating machine)China manufacturer
At present, magnetron sputtering optical coating is still a new word in China. The earliest magnetron sputtering optical coating machine appeared in North America at the end of last century. The optical film is ar film. With the development of technology, dozens of optical films are deposited by magnetron sputtering coater.
At the end of last century, during the great development of optical communication, a company in the United States used the magnetron sputtering coater to produce 100g DWDM filter. At present, this coater is still used in the production of CWDM and optical communication cut-off filter. The successful application is enough to show the powerful strength and advantage of magnetron sputtering optical coating technology!
Zhenhua company has advanced technology in R & D of magnetron sputtering coating machine, reaching international level. The magnetron sputtering optical coating machine developed by Zhenhua company has completed the R & D and design of sputtering system, ion source oxidation system, high-speed workpiece drive system, film thickness measurement and control system, operating system and the overall structure of the coating machine.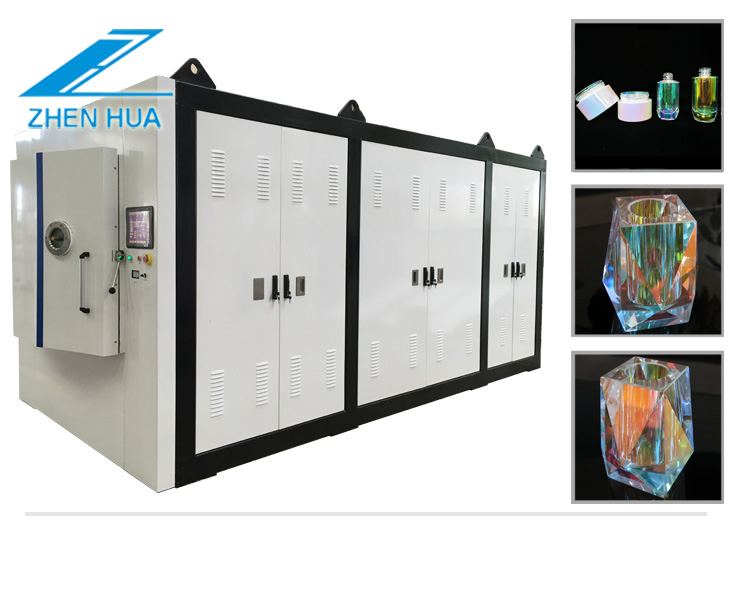 The operation stability is much better than that of electron beam evaporation coating machine
The electron gun control system of the electron beam evaporation coater has negative high voltage system, weak current signal and control system. In addition to its complexity, the negative high voltage system will interfere with the weak current signal system, which will cause the instability of the overall operation of the coater and increase the failure rate. At the same time, in the process of design, component purchase and production, the principle of reliability is adhered to, so its operation stability is far better than that of the electron beam evaporation coating machine.
PVD vaccum coating equipment/PVD Vacuum coating machine/magnetron sputtering coating machine/PVD vaccum coating equipment/PVD Vacuum coating machine/magnetron sputtering coating machine