optical pvd coating equipment/optical lens coating machine China manufacturer
optical pvd coating equipment/optical lens coating machine China manufacturer
Optical coating machine can produce various film, such as short wave pass, long wave pass, antireflective film, reflective film, filter film, spectroscopic film, dielectric film, high reflective film, color reflective film and so on. It can realize 0-99 layers of film system structure and also meet the requirements of automobile reflective glass, telescope, spectacles, optical lens, cold light cup,. etc.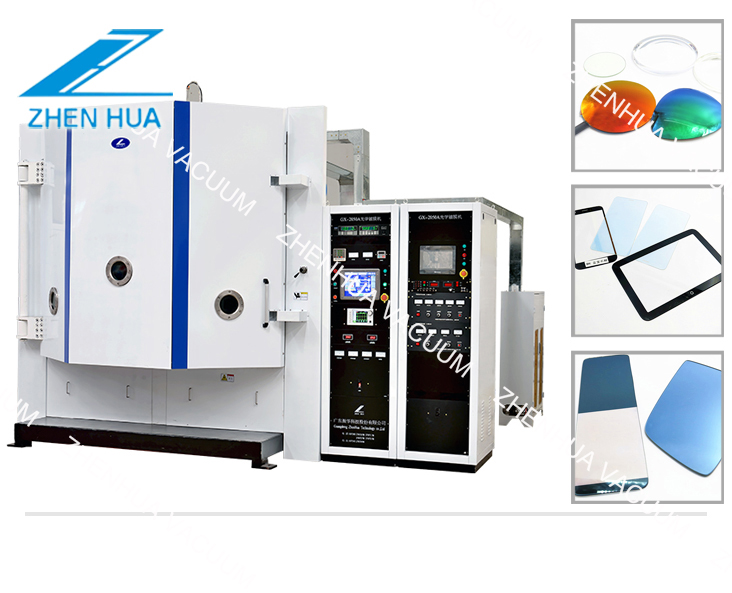 Coated glass is also called reflective glass. Coated glass is coated with one or more layers of metal, alloy or metal compound film on the glass surface to change the optical properties of the glass to meet certain specific requirements.
According to different characteristics of products, coated glass can be divided into the following categories:
1. Heat reflective glass. Generally, one or more thin films composed of metals such as chromium, titanium, or stainless steel are plated on the surface of the glass to make the product appear rich in color, have appropriate transmittance for visible light, and high reflectance for infrared light It has a high absorption rate for ultraviolet rays, so it is also called sunlight control glass, which is mainly used in buildings and glass curtain walls
2. Low-E glass. It is a film system composed of multiple layers of silver, copper or tin and other metals or their compounds on the surface of the glass. The product has a high transmittance of visible light and a high reflectance of infrared light. It has good heat insulation performance, mainly It is used in buildings, automobiles, ships and other vehicles. Due to the poor film strength, it is generally made of insulating glass
3. Conductive film glass. Coated with conductive films such as indium tin oxide on the glass surface, it can be used for heating, defrosting, defogging of glass and as liquid crystal display.
optical pvd coating equipment/optical lens coating machine China manufacturer