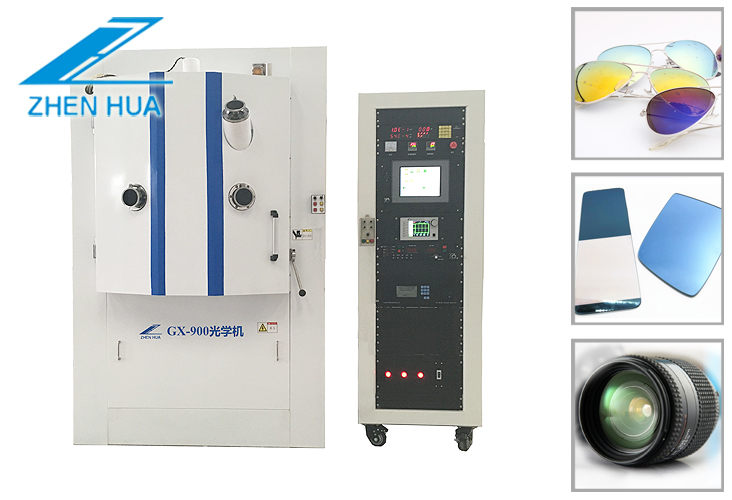 Nowadays,lots of eyeglass lenses are treated with optical coating machine , but there are still many consumers do not understand the reason why lenses should be coated by PVD vaccum coating equipment.Actually, the lens coating is mean use physical or chemical method to coated with a certain thickness film on lenses surface, for making the lens has better performance.
Most of the eyeglass lenses on the market are resin lenses, whose cost and sales price are both lower than glass lenses. However, the resin lens' performance is relatively superior, but it has a major drawback that it is easy to be scratched.If do coating film on the lenses surface via magnetron sputtering optical coating machine, the wear resistance of the lens can be enhanced without affecting other properties.
At present, the lens coating mainly is coat reflective film, which is a multi-layer film, it can up to nine layers.The transmittance of the resin lens can reach 99% or more, which greatly increases the imaging effect and obtains a better wearing comfort;There is also a film which call top film,it can make the lens more smooth and water-proof, anti-fog and dust-proof.
optical pvd coating equipment,optical lens coating machine,optical coating machine,pvd coating machine/optical pvd coating equipment,optical lens coating machine,optical coating machine,pvd coating machine/optical pvd coating equipment,optical lens coating machine,optical coating machine,pvd coating machine/optical pvd coating equipment,optical lens coating machine,optical coating machine,pvd coating machine/optical pvd coating equipment,optical lens coating machine,optical coating machine,pvd coating machine/optical pvd coating equipment,optical lens coating machine,optical coating machine,pvd coating machine/optical pvd coating equipment,optical lens coating machine,optical coating machine,pvd coating machine