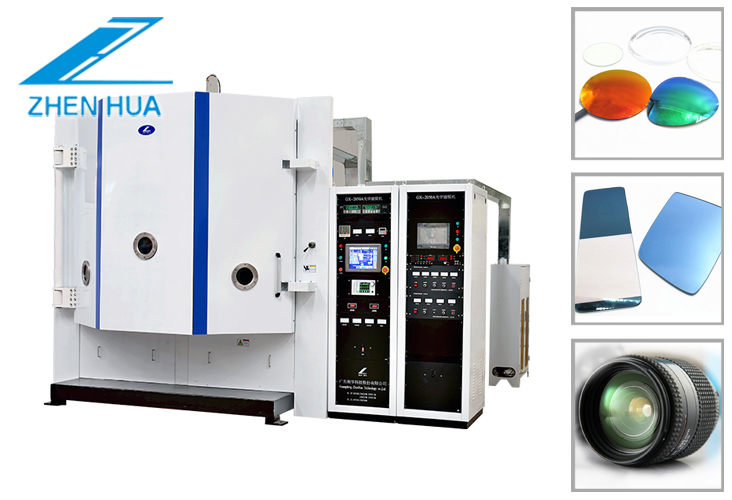 Coating is a scientific issue,it is possible to prevent a certain wavelength light by utilizing the interference light principle .The waveform of the portion of the same beam reflected by the film and the portion which is not reflected by the film differ by a half cycle.Then the two wave superpositions cancel each other out.You may have learn such a principle in college physics. Applying the principle to the actual application, so the appearance of the coating machine.
The lenses of the cameras and the eyeglass quality is much better than they used to be.That's because most of the lenses are treated by optical lens coating machine. That is mean lens coating can increase the light transmission and reduce reflections, commonly known as AF coatings.
The lens are made of glass or resin material, and its optical characteristics are fixed.When light passes through the glass it will be refracted and reflected. The different light has different waves .The coating film is mean coat a very thin transparent film on the lens surface to improve the optical performance. Different film have different effects on improving the optical characteristic, and can delay the aging of the lens.
optical lens coating machine/optical coating machine/optical pvd coating equipment/pvd coating machine/optical lens coating machine/optical coating machine/optical pvd coating equipment/pvd coating machine/optical lens coating machine/optical coating machine/optical pvd coating equipment/pvd coating machine/optical lens coating machine/optical coating machine/optical pvd coating equipment/pvd coating machine/optical lens coating machine/optical coating machine/optical pvd coating equipment/pvd coating machine/optical lens coating machine/optical coating machine/optical pvd coating equipment/pvd coating machine/optical lens coating machine/optical coating machine/optical pvd coating equipment/pvd coating machine/optical lens coating machine/optical coating machine/optical pvd coating equipment/pvd coating machine