On the sputtering vacuum coating machine which can spray rainbow colors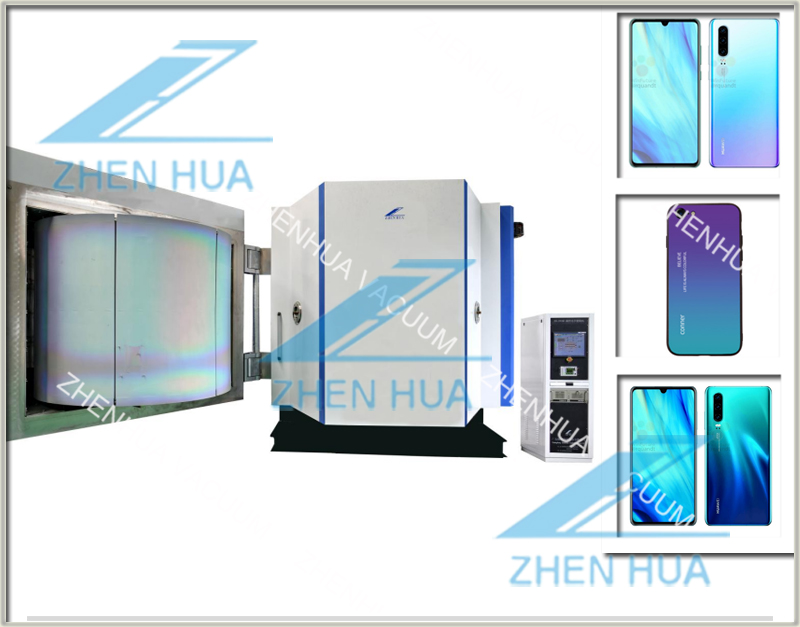 At present, many brand mobile phone cases show different colors from different angles, such as Huawei and Wei Wu. In the vacuum coating industry, we call this color gradient rainbow. Gradient color is widely used in various fields, such as cosmetics industry, glass industry and so on. People have a strong curiosity about the principle of making gradient rainbow colors. Now, let's talk about the principle of making gradient rainbow color by vacuum PVD coating machine.
Gradient process is generally carried out by magnetron sputtering optical coating machine. At present, many mobile phone back covers adopt PVD vacuum coating gradient process. Of course, optical coater and evaporative coater can also make the effect similar to rainbow seven colors, but the color gradient is irregular, and the quality is still different.
Magnetron sputtering is a kind of physical vapor deposition. The general sputtering method can be used for coating metal, semiconductor, insulator and other materials. It has the characteristics of large drug loading, convenient operation, fine coating and good adhesion.
Magnetron sputtering increases the sputtering rate by introducing a magnetic field on the cathode surface of the target and using the magnetic field to restrain the charged particles to increase the plasma density.
A complete magnetron sputtering vacuum coating machine consists of several parts, each system performs different functions, and finally realizes high-quality coating. The magnetron sputtering optical coating equipment consists of a vacuum chamber, a valve, a vacuum pumping system, a vacuum measuring system, a cathode target, a film thickness gauge, an electro pneumatic control system, etc.
The main body of the magnetron sputtering optical coating machine is a vacuum chamber. The size of the vacuum chamber depends on the size of the product substrate and the capacity of the user. The box body is made of SUS304 stainless steel, which is not easy to rust, more durable than carbon steel and easy to maintain. The machine adopts medium frequency sputtering coating technology, uses oxide materials such as silicon oxide and niobium oxide for coating, and uses a thin film thickness gauge to make an optical decorative film. The films prepared by magnetron sputtering optical coating mechanism have strong adhesion and high purity, and can simultaneously sputter a variety of materials with different components.
After coating the product with vacuum coating equipment, pay attention to the following points when cleaning the product after film forming:
1. when cleaning, be careful not to use rough or sharp materials to scrub the product surface, especially the shiny surface. Use soft flannelette that is not easy to depilate. Sand steel and drawing surface shall be rubbed along the grain, otherwise it is easy to scratch the surface.
2. if there is dust on the surface and the dirt is easy to remove, it can be cleaned with flannelette and water; For sticky parts, wipe them with alcohol or organic solvent (benzene).
3. The grease, oil stain and lubricating oil on the surface shall be wiped clean with flannelette, and then cleaned with neutral detergent, ammonia solution or special detergent.
4. if the surface is attached with bleach or acid, immediately wash it with water, then soak it with ammonia solution or neutral carbonated soda solution, and clean it with neutral detergent or warm water.
5. rainbow marks on the surface are caused by excessive use of detergent or oil. You can wash it off with warm water and neutral detergent.
6. it is forbidden to use detergent, steel balls, abrasive tools, etc. containing bleaching ingredients and abrasives. For cleaning. To avoid residual detergent and corrosion of the surface, clean the surface with clean water at the end of washing.
7. do not contact the product with strong acid and alkali chemicals.
vacuum coating machine,PVD vacuum coating machine,PVD coating machine, sputtering vacuum coating machine, PVD sputtering coating machine,vacuum coating machine,PVD vacuum coating machine,PVD coating machine, sputtering vacuum coating machine, PVD sputtering coating machine,vacuum coating machine,PVD vacuum coating machine,PVD coating machine, sputtering vacuum coating machine, PVD sputtering coating machine