ZYB-1350M and ZYB-1800M coating machine, solve a long time trouble of PC/ABS lamp spray paint. Get into coating machine straight,complete evaporation coating aluminium and plating protective film process steps by one time inside chamber room,no need bottom-spraying and surface-spraying. Full-automatic control system,the film with index such as uniformity,acidproof,alkalic-resistance, salt-tolerant,waterproof, prevent corrosion effect of the outside world by using nanotechnology. Pass test:
A.Adhesion:After gluing straight,no fall off;drop area less than 5% after scoring form.
B.Silicone Oil Properties:The line weight of water-based marker pen has changed.
C.corrosion resistance:Titration 1% NaOH after 10 minutes,plating has no corrosion.
D.Water immersion test:Immersion in 50℃ water for 24 hours,plating has no fall off.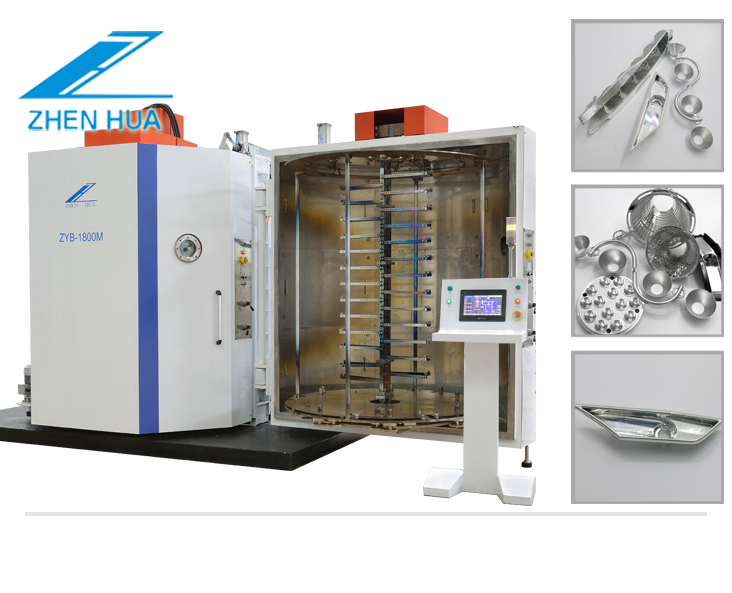 Sputtering coating refers to the technology of bombarding the target surface with charged particles in a vacuum chamber, knocking out atoms and other particles in the target through particle momentum transfer, and making them precipitate on the substrate to form a film. Sputtering coating technology has the advantages of large area rapid deposition, good adhesion between film and substrate, high sputtering density, few pinholes, good controllability and repeatability of film layer, and any material can be sputtered, so it has developed rapidly in recent years and widely used.
When the particles with tens of electron volts energy bombard the surface of the material, the material will be excited into a gaseous state. Using this phenomenon, the surface of the material can be coated, etched, cleaned and analyzed. Because ions are easy to accelerate or deflect in the electromagnetic field, the charged particles are generally ions. When the ion bombards the target surface, it will produce many effects. In addition to the target atoms and molecules ultimately participate in the film formation, other effects also have a great impact on the growth of the film.
car lamp protective film coating machine/Head Lamp Vacuum Coating Machine/PVD vaccum coating equipment/car lamp protective film coating machine/Head Lamp Vacuum Coating Machine/PVD vaccum coating equipment