Introduction of ZCL3120 Anti-fingerprint (PVD)Sputtering Coating Machine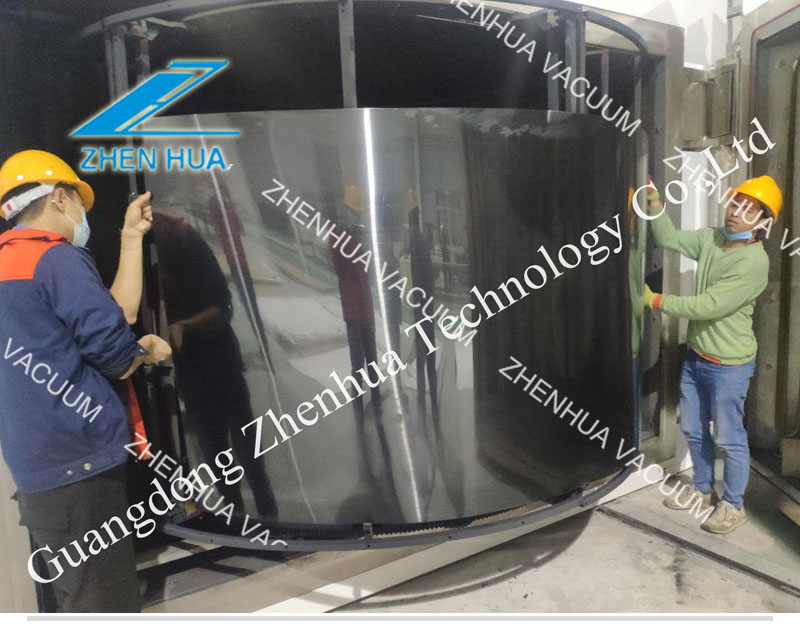 The anti-fingerprint coating on metal, glass, ceramics and other materials by vacuum coating can not only obtain superior coating performance, but also takes into account the environmental protection process, Its with good metal texture and good anti-fingerprint effect. In recent years, with the development of the vacuum industry and the continuous improvement of the coating process, it is possible to realize that a piece of equipment can be coated with decorative color films and anti-fingerprints.
The ZCL3120 anti-fingerprint sputtering coating machine designed and produced by Guangdong Zhenhua company in 2018 has an inner diameter of 3100*2000mm. It is specially used for high-end stainless steel plates, large furniture parts, kitchen and bathroom hardware for color coating and anti-fingerprint coating. This equipment has large loading capacity , stable equipment, low energy consumption, uniform coating and many other advantages. It can pass up to 3000 friction coefficient tests (with a dust-free cloth 10*10mm grinding head, 500g strength) and is deeply loved by various industries. For example, An American customers use to coat high-grade stainless steel plates, and well-known china companies use our ZCL3120 to plate large stainless steel products. Make the customer's products more resistant to dirt, the surface is easier to clean, and the service life is longer.
The ZCL3120 anti-fingerprint sputtering coating machine integrates magnetron and evaporation technology to provide customers with high-quality and high-qualified products. With the increasing market demand, Guangdong Zhenhua Technology Co., Ltd. will continue to work hard as always to provide customers with better, higher-end and more stable vacuum coating equipment.
PVD Sputtering Coating Machine,PVD Coating Machine,Anti-fingerprint Coating Machine