Introduction of Multiple-arc ion coating machine
Multiple arc ion coating machine not only can coating single metal and alloy, but also can obtain metal and non-metal compound coating which can not be obtained by electroplating and chemical plating. The hardness and wear resistance of the coating are very high. If it is used for cutting tools, the cutting strength, speed and service life of the tools can be greatly improved, the cutting process can be improved, and the machining accuracy can be improved.
Multiple arc ion coating machine is widely used in various functional coatings, many of which have even entered the industrial scale. At first, the ion coating gold film or silver film solved the lubrication problem of the ball bearing, and then gradually developed in the anti-corrosion film, super hard film and so on. Ion coating TiN film is cash gold color, which has been used in clock parts, stationery goods, tableware and other aspects, not only beautiful appearance, but also corrosion-resistant and heat-resistant. Multiple arc ion coating machine has been used in automobile lamps, automobile wheels, electronic parts and so on, and the effect is obvious.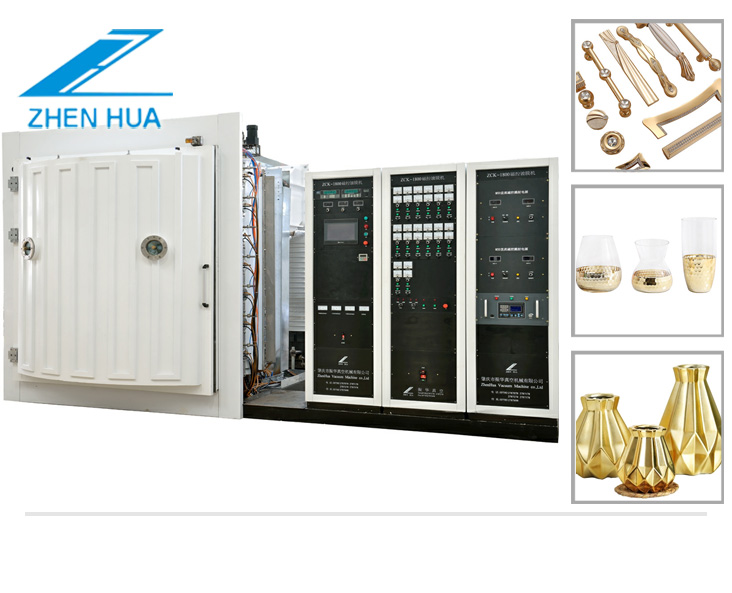 Advantages of Multiple arc ion coating machine:
1. The quality of ion coating products is better. Neutral particles are mainly used in vacuum evaporation and magnetron sputtering coating. If the speed of particles arriving at the substrate is low, problems such as low deposition rate, poor adhesion of the film, and uncompacted film will occur. Ion coating can solve these problems well.
2. The coating process and products are environmentally friendly. The coating process is simple and does not need to consume precious metals such as copper, nickel, cadmium, etc., and does not need to use strong acid, strong alkali, cyanide, chromic anhydride and other toxic and harmful chemicals. The discharge of pollutants (especially heavy metal, cyanide) is small; the water consumption is low, only a small amount of circulating cooling water is needed. At the same time, it can also improve the quality of coating products, increase the variety of coating, and achieve the purpose of energy saving, emission reduction, consumption reduction and efficiency increase.
Taking 300000pcs 17 inch aluminum alloy automobile wheel hub production lines as an example, the use of ion coating technology can save 900000 tons of water, save 7.6 million kilowatts of electricity,reduce 1.1 million tons of waste water discharge,save nearly 200 tons of heavy metals such as copper and nickel, worth 30 million yuan, and the cost of coating is only 1 / 3 of that of electroplating.
ion coating machine/ion sputtering coating machine/multi-arc ion coating machine/PVD Vacuum coating machine/ion coating machine/ion sputtering coating machine/multi-arc ion coating machine/PVD Vacuum coating machine/ion coating machine/ion sputtering coating machine/multi-arc ion coating machine/PVD Vacuum coating machine