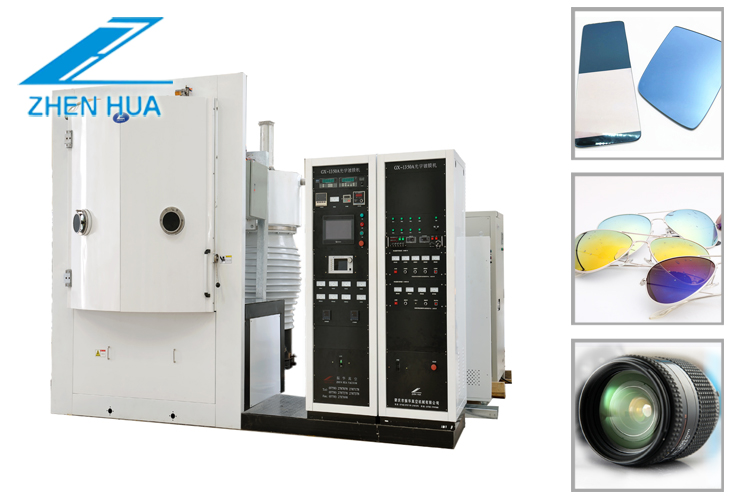 High-tech optical lens coating machine manufaturer
optical coating machine, with arc shape fixture or arch fixture, can be used for multi-layer film such as: the Short wave pass, Long wave pass, AR, light filter and widely used for optical lens, electronic produsts, acrylic, glass, lamp, touch screen, lunette, telescope, micrescope, stage light, light lamp and phone case. The optional color of the product: AR, light filter, unreal colour, red multicolored, red, yellow, green, blue and rainbow.
Remark: The chamber can be customized according to the product and special technilogical requirement.
PVD technology not only improves the bonding strength of the film and the base material of the tool, the coating composition has also developed from the first generation of TiN to TiC, TiCN, ZrN, CrN, MoS2, TiAlN, TiAlCN, TiN-AlN, CNx, DLC, and ta- C and other multiple composite coatings.
The Zhenhua Technology pass the ISO9001:2000 standard in 2005, and got the name of AAA+ enterprise in 2006, won the most trustable vacuuum brand in 2007, Chinese famous brand in 2008, Deep certify leading brand in 2010, Guangdong High-tech enterprise in 2011. Upon now, we have many patent, including 15 vacuum related utility model patent of invention. We are the Guangdong private owned technology enterprise, and the technology server centre of guangdong optical academy.We serve as executiv committee meeting menber in Guangdong vacuum academy and the vice president department of Guangdong optical academy.
The strong and professional technical team, the Zhenhua Technology develop vary kinds of coating machine depend on the requirement of marking, which lead Zhenhua Technology to the edge of industry. The Zhenhua Technology not only devote to provede the core coating machine and technical support to our customer, but also the whole production solution and swift after-sale server, which maximize the production capacity as well as the financial profit.

optical lens coating machine/PVD Vacuum coating machine/PVD vaccum coating equipment/optical lens coating machine/PVD Vacuum coating machine/PVD vaccum coating equipment