High quality PECVD roll to roll coating machine China manufacturer
PECVD roll to roll coating machine
Product features:
PECVD roll to roll coating machine integrates high efficiency, stability and high cost performance. It is suitable for various glass substrates and flexible substrates in electronic paper, flexible circuit board, solar thin film battery, water oxygen barrier film and optical coating touch panel industries. It can also be applied to cigarette package direct plating paper, laser, anti-counterfeiting, advanced hot stamping materials, high-grade color printing packaging coating, fully compatible media coating, heat insulation and energy saving film, shielding film, conductive film and other film layers.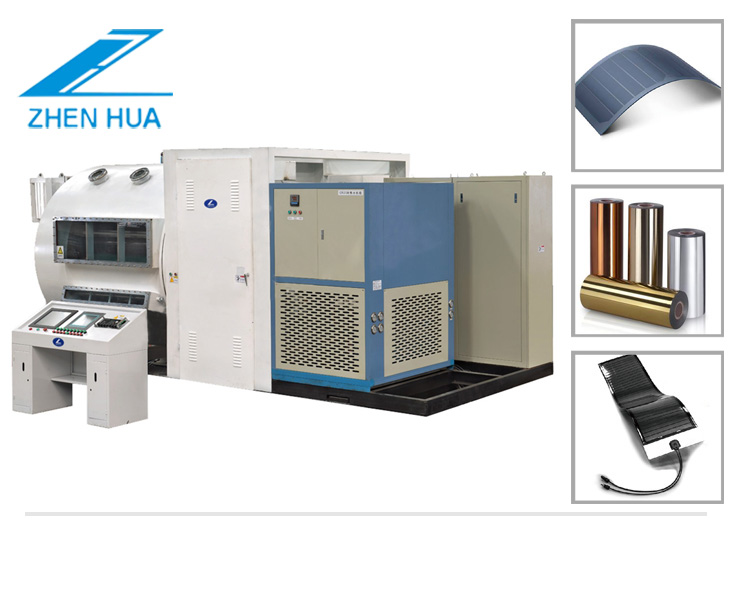 Vacuum coating mainly refers to a type of coating that needs to be performed under a relatively high degree of vacuum, and specifically includes many types, including vacuum ion evaporation, magnetron sputtering, MBE molecular beam epitaxy, PLD laser sputtering deposition, and many other types. The main idea is to divide into evaporation and sputtering.
The substrate to be coated is called a substrate, and the plated material is called a target. The substrate is in the vacuum chamber with the target.
Evaporation coating is generally heating the target material to evaporate the surface components in the form of atomic groups or ions, and settle on the surface of the substrate, and form a thin film through a film-forming process (scatter-island structure-vagal structure-layer growth). For sputtering coatings, it can be simply understood as the use of electrons or high-energy lasers to bombard the target and cause the surface components to be sputtered in the form of atomic groups or ions, and finally deposited on the substrate surface, undergoing the film-forming process, and finally forming a thin film .
Vacuum coating refers to a method of heating metal or non-metallic materials under high vacuum to evaporate and condense on the surface of plated parts (metal, semiconductor or insulator) to form a thin film. For example, vacuum aluminum plating, vacuum chromium plating, etc.

PECVD roll to roll coating machine/PVD Vacuum coating machine/PECVD roll to roll coating machine/PVD Vacuum coating machine