High quality Head Lamp Vacuum Coating Machine solution
Auto-lamp as a type of function module,requested it has excellent heat resistance properties,mechanical properties,low Haze and nice appearance.Generally,in order to get nice appearence and reflection effect,the auto-lamp have to do some after processing step such as spray paint and vacuum evaporation coating .Spraying paint can improve the smoothness of the surface of the auto-lamp,and reducethe small molecule precipitate which inside the material at the same time,improve the pass rate of evaporation coating. Vacuum evapotationcoating can make auto-lamp get the metal effects, nice appearence and reflection effect.However,spraying paint will cause high costand cause environment pollution in the same time.At present,many manufacturers tend to the process of coating by no spray paint andevaporation coating straight,the technique of plating protective film on auto-lamps'reflect cover are widely applied to various seriesof car. The special coating equipment for protective film of auto-lamp,complete evaporation coating aluminium and plating protectivefilm process steps by one time inside chamber room,prevent secondary pollution.The film with index which can conform international standardsuch as uniformity,acidproof,alkalic-resistance,salt-tolerant,waterproof,function for prevent corrosion effect of the outside world by using nanotechnology.
According to this market demand,Zhenhua Technology painstaking research and develop innovative solution for customers,launch ZYB-1350M and ZYB-1800B auto-lamp protective film special coating equipment and applied successfully to Shen Lung, FAW,DMF,GEELY,JAC etc headlights plating,and also widely applied to many auto-lamp manufacturers.The equipments use integration design,with nice appearence,compact structure,small footprint.Single shaft,auto-lamp plating without size limit,use different clamp,ensure consistent film and more uniform.High pumping speed,can complete a round of plating in about 7 or 8 minuts,improve working efficiency,save time,labor and power consumption.Ensure customers can achieve goals of industrial and business more better,get the maximum economic benefit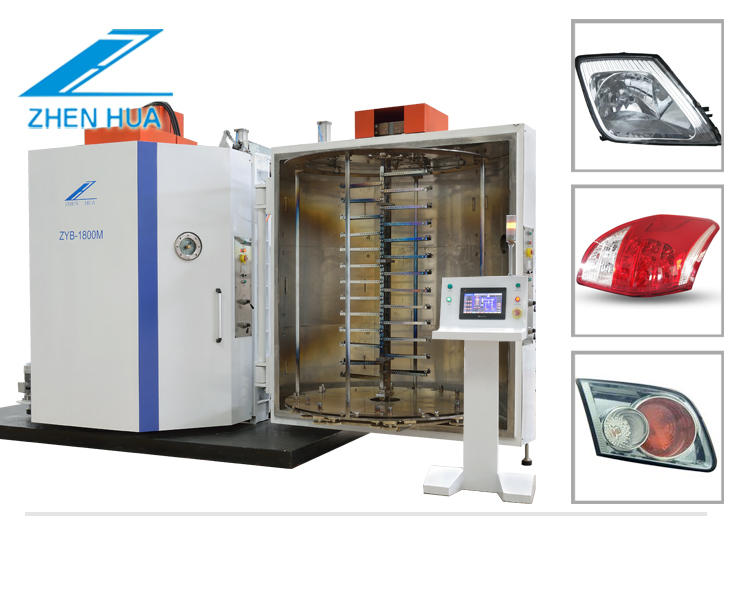 Application of vacuum coating machine
1. Flexible packaging for the food industry: biscuits and bakery products, candy, coffee, tea, chocolate bars, soups, high barrier films;
2. Decoration: gift packaging, trademark, hot stamping foil, hologram, etc.
3. Various technologies and daily necessities: aluminized wires in the textile industry, sun protection films in the construction and automotive industries, security and anti-counterfeiting (holographic), capacitive films, electrostatic shielding (cables and electronics)
Precautions for use of magnetron sputtering coating equipment:
Magnetron sputtering coating equipment is currently a coating product. Compared with traditional water electroplating, magnetron sputtering coating equipment is non-toxic and can cover up and make up for the shortcomings of various water plating.
In recent years, the technology of magnetron sputtering coating equipment has been widely used. At present, there are many large and small domestic manufacturers of magnetron sputtering coating equipment, but they focus on the production of magnetron sputtering coating equipment.
Experienced manufacturers of magnetron sputtering coating equipment will certainly have a certain scale. This type of magnetron sputtering coating equipment does not look like a small thing.
Magnetron sputtering coating equipment has a very high technical content, so you must first understand when buying magnetron sputtering coating equipment.
Car Lamp Protective Film Coating Machine/Head Lamp Vacuum Coating Machine/Car Lamp Protective Film Coating Machine/Head Lamp Vacuum Coating Machine/Car Lamp Protective Film Coating Machine/Head Lamp Vacuum Coating Machine/Car Lamp Protective Film Coating Machine/Head Lamp Vacuum Coating Machine