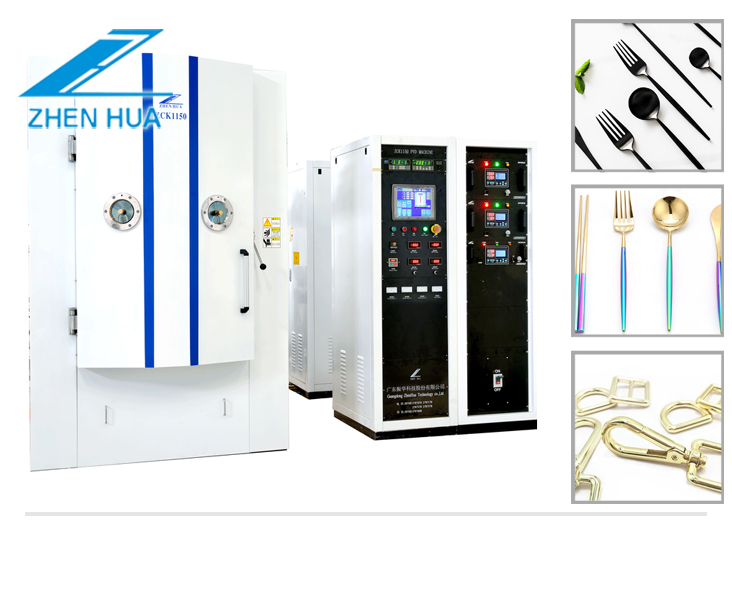 High performance multi arc magnetron sputtering coating machine design(multi arc magnetron sputtering coating machine/multi-arc ion coating machine/Magnetron Sputtering Coating Machinery/vacuum coating machine)
Most of coating manufacturer used Electron Beam evaporation coating machine before,but because of low production efficiency,high equipments costs and films are difficult to control,so technically generally manufacturer can not achieve.
Zhenhua Technology have researched and developed the machine ZCK-1150 Magnetron Coating Equipment could solve the problemsmentioned above completely,its operation stability is much better shape than electron beam evaporation coating machine,also with high efficiency and small investment advantages .Because of the special way of magnetron sputtering coating and the connection between optimal Arc Source and clamp plate,the loading capacity of ZCK-1150 coating equipment is bigger than chamber diameter 2050mm electron beam evaporation coating machine.This model coating equipment already coating productions for Sansung and Apple manufacturer stably.
The Zhenhua Technology has all the reseaching, sales, production and serve department. Our main product: Optical coating machine, high class plastic coating machine, multi-arc magnetron coating machine, in-line coating machine. Our products is widely applied to optical, electronic, toys, construction metarial,metal, watch and clock, auto industrial and decoraction application.
(vacuum coating machine all related products)
With all the well production facility such as production centre, polishing centre, CNC machine and leak detector, we has very strong production ability.(multi arc magnetron sputtering coating machine/multi-arc ion coating machine/Magnetron Sputtering Coating Machinery/vacuum coating machine)
(multi arc magnetron sputtering coating machine/multi-arc ion coating machine/Magnetron Sputtering Coating Machinery/vacuum coating machine)(multi arc magnetron sputtering coating machine/multi-arc ion coating machine/Magnetron Sputtering Coating Machinery/vacuum coating machine)