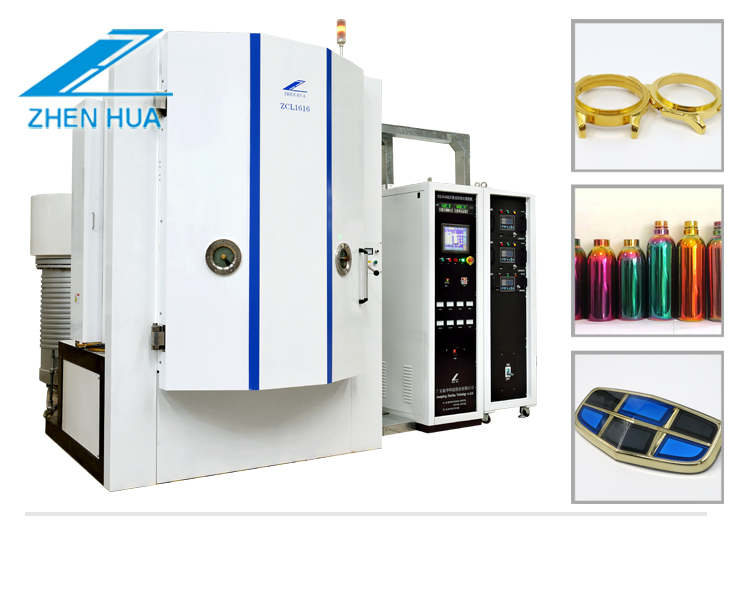 Do you know what is imitation gold coating ? What kind of coating machine can meet the requirements of this color? In fact, the purpose of imitating gold is to change the appearance of electroplated products into the color of 14K ~ 24K gold. the imitation gold plating is not easy to fade, the choice of coating machine is very important. Guangdong Zhenhua Technology Co., Ltd. can design and produce this kind of PVD sputtering coating machine according to the needs of customers.
The PVD sputtering coating machine produced and designed by Guangdong Zhenhua Technology Co., Ltd. Can make imitation gold plating. Many manufacturers will basically use copper or tin to plating, so that the appearance of the object can reach the effect of 14K ~ 24K, The PVD sputtering coating machine made by Zhenhua can directly use the real gold target material to make the product directly plate to the gold layer, so that it can reach the almost color of 14K ~ 18K, which is simple, fast and stable in quality, but only suitable for stainless steel products.
Compared with the traditional plating process, the jewelry vacuum plating process is more expensive, but the performance of adhesion, corrosion and wear resistance has been greatly improved, If you want to plating imitation gold, for stainless steel substrates we recommended to choose vacuum coating , For plastic material we suggest using evaporation coating machine.
PVD sputtering coating machine/Jewelry PVD Coating Machine/aluminum coating machine/PVD vaccum coating equipment/PVD sputtering coating machine/Jewelry PVD Coating Machine/aluminum coating machine/PVD vaccum coating equipment、PVD sputtering coating machine/Jewelry PVD Coating Machine/aluminum coating machine/PVD vaccum coating equipment/PVD coating machine/PVD coating machine/PVD coating machine