Evaporation coating generally heats the target to evaporate surface components in the form of atomic groups or ions. And it settles on the surface of the substrate, and forms a thin film through a film forming process (scatter-island structure-vagal structure-layer growth). For sputtering coatings, it can be simply understood as the use of electrons or high-energy lasers to bombard the target and cause the surface components to be sputtered in the form of atomic groups or ions, and finally deposited on the substrate surface, undergoing the film-forming process, and finally forming a thin film .
The decorative vacuum coating equipment is an evaporation coating device. The resistance heating method is used in a vacuum chamber to melt and vaporize the metal wire (aluminum wire) closely attached to the resistance wire, and vaporized metal molecules are deposited on the substrate to obtain a smooth and high reflection. Rate of the film layer, to achieve the purpose of decorating and beautifying the surface of the article.
This equipment has the advantages of reasonable structure, uniform film layer, good film formation quality, large pumping speed, short working period, high production efficiency, convenient operation, low energy consumption and stable performance. Widely used in automotive, audio, various small appliances, computers, watches and clocks, toys, mobile phones, reflectors, cosmetics, toys and other industries.
Machinable materials include: ABS, PS, PP, PC, PVC, nylon, metal, poly, glass, ceramic, TPU, etc.
The plating effects are: ordinary electroplated bright surface, matte surface (semi-dumb, full dumb), process plating wrinkles, drawing, raindrops, colorful, etc .; the plating colors are: gold, silver, red, blue, green, purple, colorful, etc. Wait.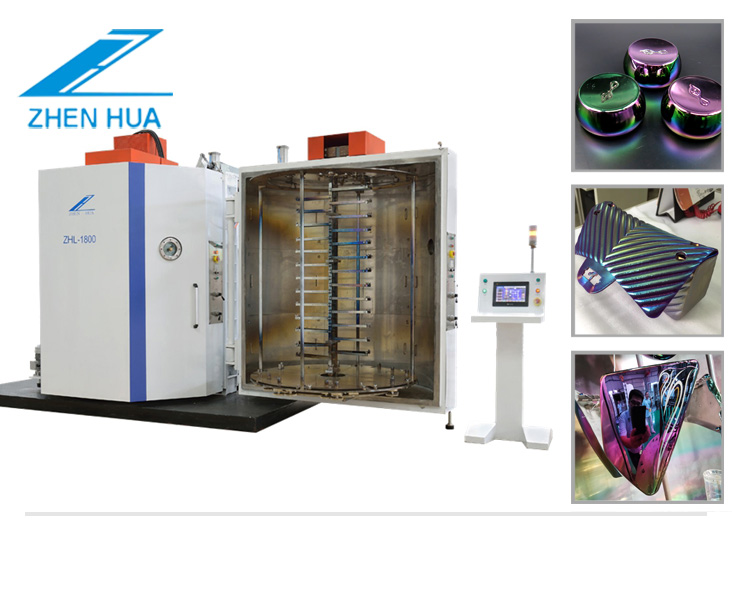 Vacuum evaporation composite coating equipment
Product features:
The high vacuum evaporation coating equipment uses resistance heating evaporation to melt and vaporize the metal target under vacuum environment, so that the metal molecules can be deposited on the substrate surface, so as to obtain a smooth and bright high reflectivity metal film. The device is applied to nonconductive film, shielding film and metal film on plastic surface of mobile phone shell. Processable materials include: ABS, PS, PP, PC, PVC, TPU, nylon, ceramics, metals, etc.
Gradient color PVD coating machine/PVD Vacuum coating machine/small pvd coating machine/Gradient color PVD coating machine/PVD Vacuum coating machine/small pvd coating machine/Gradient color PVD coating machine/PVD Vacuum coating machine/small pvd coating machine