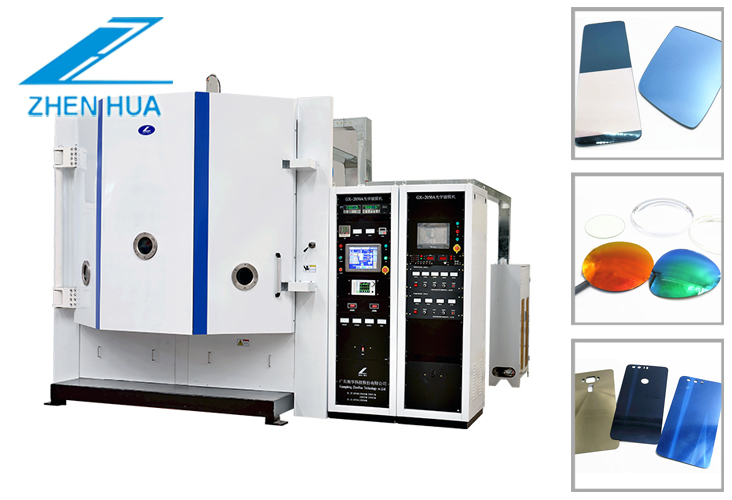 Let's talk about optical coating today. In fact, optical coating is based on the fluctuation and interference of light. A very thin layer of material is coated on the surface of glass or plastic sheet to improve the transmittance and reduce the reflectivity of the lens.
Now mobile phone is an inseparable tool for people. In the field of mobile phone, in addition to imaging quality, lens transmittance plays a very important role in improving image quality.At present, the mobile phone industry usually uses resin as the lens base material. In order to reduce the mirror reflection and improve the transmittance, we will coat AR antireflection film (antireflection film) on the lens surface. It is a kind of hard heat-resistant oxide film, which can minimize the reflectivity of the surface of components within a specific wavelength range.Without coating, each surface of optical element will produce about 4% energy loss due to reflection, while AR antireflection coating requires GX2050 ZHENHUA optical coating machine.
ZHENHUA GX2050 Optical coating machine can not only coating lens glass and lens, but also coating back cover of mobile phone, vehicle display screen, glass plastic decorative parts and other products, with a wide range of applications!
lens hard coating machine/optical pvd coating equipment/optical lens coating machine/optical coating machine/vacuum metallizing machine/lens hard coating machine/optical pvd coating equipment/optical lens coating machine/optical coating machine/vacuum metallizing machine/lens hard coating machine/optical pvd coating equipment/optical lens coating machine/optical coating machine/vacuum metallizing machine/lens hard coating machine/optical pvd coating equipment/optical lens coating machine/optical coating machine/vacuum metallizing machinelens hard coating machine/optical pvd coating equipment/optical lens coating machine/optical coating machine/vacuum metallizing machine