Easy to handle Auto-lamp coating machine customized
ZYB-1350M and ZYB-1800M coating machine, solve a long time trouble of PC/ABS lamp spray paint.Get into coating machine straight,complete evaporation coating aluminium and plating protective film process steps by one time inside chamber room,no need bottom-spraying and surface-spraying. Full-automatic control system,the film with index such as uniformity,acidproof,alkalic-resistance, salt-tolerant,waterproof, prevent corrosion effect of the outside world by using nanotechnology.Pass test:
A.Adhesion:After gluing straight,no fall off;drop area less than 5% after scoring form.
B.Silicone Oil Properties:The line weight of water-based marker pen has changed.
C.corrosion resistance:Titration 1% NaOH after 10 minutes,plating has no corrosion.
D.Water immersion test:Immersion in 50℃ water for 24 hours,plating has no fall off.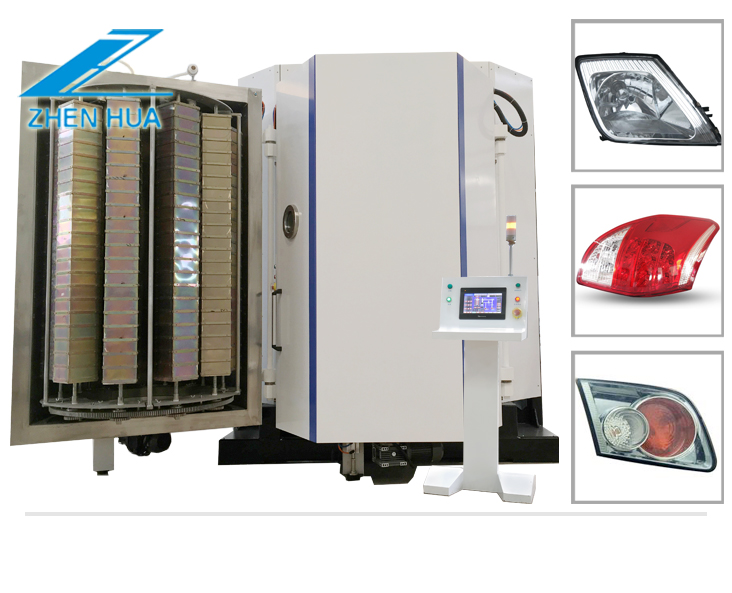 Equipment Model ZYB-1350B ZYB-1800M ZYB-2000M
Specification Size 1350×19501800×19502000×1950
Remark:The chamber size can be designed by customers' product and special process request.
The film layer is prepared in a vacuum, and includes a single crystal or a compound film of crystalline metal, semiconductor, insulator and the like. Although chemical vapor deposition also uses vacuum means such as reduced pressure, low pressure, or plasma, vacuum coating generally refers to the physical deposition of thin films. There are three forms of vacuum coating, namely evaporation coating, sputtering coating and ion plating.
The vacuum coating technology first appeared in the 1930s, and industrial applications began to appear in the 1940s and 1950s. Industrialized large-scale production began in the 1980s, and has been widely used in electronics, aerospace, packaging, decoration, bronzing and other industries. Vacuum coating refers to the deposition of a certain metal or metal compound on the surface of a material (usually a non-metallic material) in the form of a vapor phase under a vacuum environment, which is a physical vapor deposition process. Because the coating is often a metal thin film, it is also called vacuum metallization. In a broad sense, vacuum coating also includes non-metallic functional films such as vacuum-evaporated polymers on the surface of metal or non-metallic materials. Of all the materials to be plated, plastic is the most common, followed by paper coating. Compared with metals, ceramics, wood, and other materials, plastics have the advantages of sufficient sources, easy performance control, and convenient processing. Therefore, a wide variety of plastics or other polymer materials are used as engineering decorative structural materials and are widely used in automobiles, home appliances, and daily use. Packaging, craft decoration and other industrial fields. However, most plastic materials have defects such as low surface hardness, gorgeous appearance, and low abrasion resistance. For example, a thin metal film is deposited on the plastic surface to give the plastic Cheng Liang a metallic appearance. A suitable metal source is also It can greatly increase the wear resistance of the material surface, and greatly expand the decorativeness and application range of plastics.
Auto-lamp coating machine/Car Lamp Protective Film Coating Machine/Head Lamp Vacuum Coating Machine/Auto-lamp coating machine/Car Lamp Protective Film Coating Machine/Head Lamp Vacuum Coating Machine/Auto-lamp coating machine/Car Lamp Protective Film Coating Machine/Head Lamp Vacuum Coating Machine