Characteristics of optical PVD coating equipment / optical coating machine
1. Product design, seamless integration of technology and product performance of Zhenhua company, to create a reliable, stable, safe and intelligent coating system!
2. Vacuum acquisition, re optimize the designed vacuum acquisition system to meet the fast and stable vacuum environment!
3. Steam source and ion source, reasonable layout and high-quality processing technology, debugging technology, automatic adjustment of process, innovative structure and accurate rate of electron beam to ensure more accurate and stable material deposition!
4. Automatic operation control system, new development of accurate and stable system! Easy to set and operate!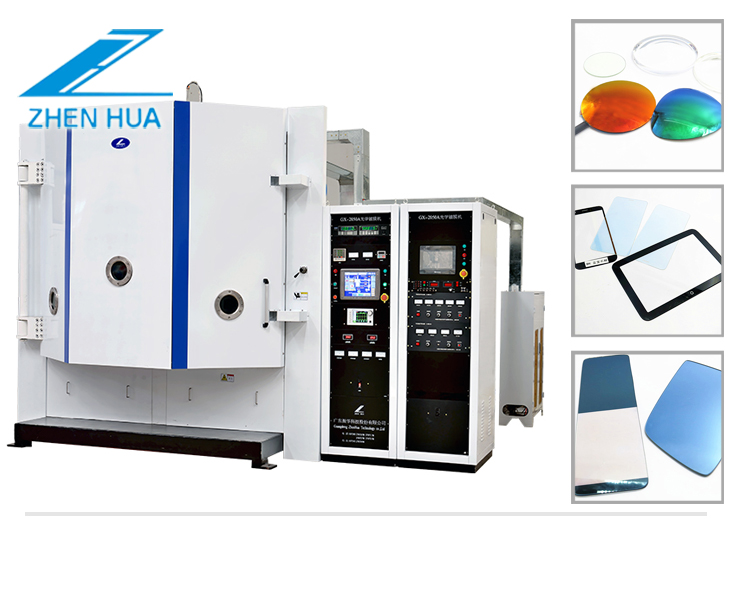 Vacuum coating machine mainly refers to a type of coating that needs to be performed under a high degree of vacuum, including many types, including vacuum evaporation coating machine, vacuum multi-arc ion coating machine, vacuum intermediate frequency magnetron sputtering coating machine, multifunctional intermediate frequency magnetic Sputtering multi-arc composite ion coating machine, vacuum optical (electron beam evaporation) coating machine and other vacuum coating equipment. . The main idea is to divide into evaporation and sputtering.
The main uses of magnetron sputtering coating equipment:
1. Various functional thin film coatings. The plated film is generally capable of absorbing, transmitting, reflecting, refracting, polarizing and other effects.
2. Applications in the field of fashion decoration, such as various total reflection coatings and translucent coatings, can be applied to mobile phone cases, mice and other products.
3. In the field of microelectronics industry, it is a non-thermal coating technology, mainly used in chemical meteorological deposition.
4. Great applications in the optical field, such as optical thin films (such as antireflection coatings), low-e glass and transparent conductive glass.
5. In the processing of machinery industry, its surface functional film, super hard film and so on. Its function can provide the surface hardness of the article, thereby improving the chemical stability performance, and can prolong the service life of the article.
optical PVD coating equipment / optical coating machine/optical lens coating machine/PVD Vacuum coating machine/PVD vaccum coating equipment/optical PVD coating equipment / optical coating machine/optical lens coating machine/PVD Vacuum coating machine/PVD vaccum coating equipment/optical PVD coating equipment / optical coating machine/optical lens coating machine/PVD Vacuum coating machine/PVD vaccum coating equipment