Advantages of vacuum gold plating of hardware products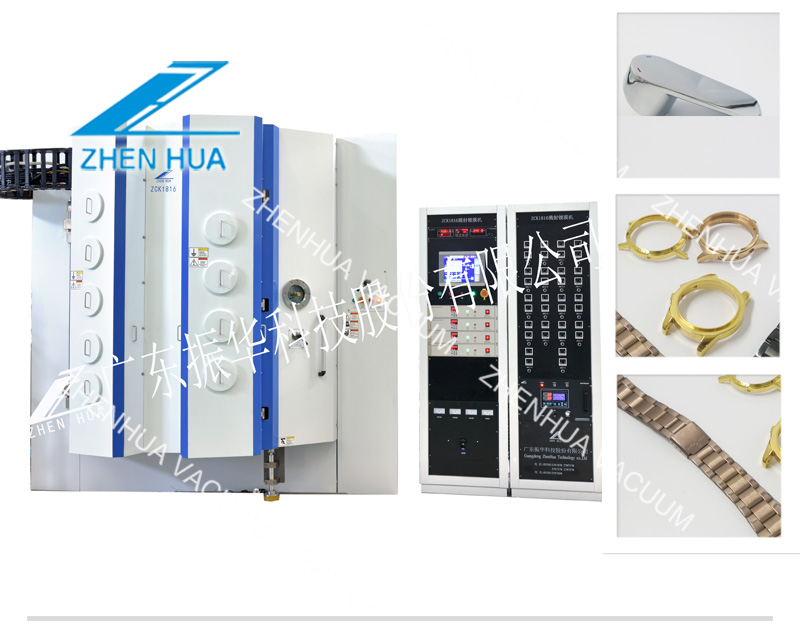 As a member of gold precious metals, it is not only used for daily decoration, but also has a wide range of applications in our industry. For example, electronics, communications, optical fibers, aviation and other precision hardware connectors, conductive contacts, industries that have functional requirements for electrical conductivity, solderability, corrosion resistance, etc. Everyday crafts, decorations, etc. Also available!
Gold plating has the following main functions:
1. Anticorrosion
Gold is extremely resistant to chemical corrosion and discoloration, and will not melt at 1000 degrees Celsius.
Second, the appearance is bright.
Gold has a mirror-like luster and can maintain its luster for a long time, so it is often used for decoration.
Third, the thermal conductivity is strong.
Gold has good electrical and thermal conductivity. Its electrical conductivity ranks third among metals, and its thermal conductivity is 74% that of silver.
Fourth, it is widely used.
Gold is widely used on the surface of copper, stainless steel and aluminum alloy to protect the base material from corrosion and play a bright decorative role.
Is gold plated hardware real gold?
Yes, gold plated. Types can be based on customer requirements, such as: 24K, 22K, 20K, 18K gold, etc. Purity is determined based on functional requirements.
What hardware materials can be plated with gold?
Gold-plated products such as aluminum alloy gold-plated, ceramic gold-plated, copper gold-plated, stainless steel gold-plated, tungsten copper gold-plated, etc. Electronics, communications, optical fibers, aviation, medical and other industries that require electrical conductivity, solderability, corrosion resistance, etc. for precision hardware connectors and conductive contacts. Can be gold plated.
The electroplating industry is an important processing industry in China. According to a rough estimate, there are 15,000 electroplating factories in China, with a total of more than 500,000 professional employees. There are more than 5,000 production lines, the electroplating area is 250-300 million square meters, and the annual output value of the electroplating industry is about 10 billion yuan. In the past ten years, township companies have grown rapidly. Zinc plating, copper plating, nickel plating and chrome plating are widely used in electroplating processing in my country. For a long time, there is no special government department responsible for the electroplating industry, and the layout and development of the electroplating industry lacks a comprehensive and complete plan. Due to the large number of factories, small planning and low degree of specialization, resulting in low production capacity and poor economic benefits, most state-owned electroplating enterprises are facing losses. The electroplating industry is not invested enough. In the past ten years, the limited investment in the electroplating industry, especially the investment in skill transformation and skill introduction, has restricted the updating and development of skills in the electroplating industry.
The lack of perfect absorption and promotion of imported technologies leads to unnecessary repeated introduction and waste of funds, especially in additives and special chemicals for electroplating. Due to the lack of professional training and on-the-job training, the skill level of production workers is low. The company's handling level is low, and most electroplating companies are still using extensive operation and handling mode, which is used to the poor ability of shopping malls to change. Except for some joint ventures and export companies, most of them do not have a sound industry management system, and most of them lack instruments and skills for liquid analysis and coating testing. High material consumption and low power. The material consumption and water consumption of most electroplating enterprises greatly exceed the foreign average level. According to some cleaning, today with more and more advanced industrial production, everyone is more and more worried about the increasingly serious industrial pollution, especially the electroplating industry, which produces industrial wastewater that pollutes this beautiful land of the motherland. In some emerging industrial cities, the pollution caused by electroplating industry is becoming more and more serious.
Gradient color PVD coating machine,color PVD coating machine,PVD coating machine,24K Jewelry Gold Magnetron Sputtering Machine,Fully automatic PVD vacuum coating machine,Gradient color PVD coating machine,color PVD coating machine,PVD coating machine,24K Jewelry Gold Magnetron Sputtering Machine,Fully automatic PVD vacuum coating machine,Gradient color PVD coating machine,color PVD coating machine,PVD coating machine,24K Jewelry Gold Magnetron Sputtering Machine,Fully automatic PVD vacuum coating machine